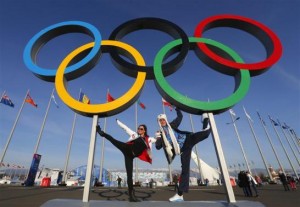 (Reuters) – Russian President Vladimir Putin attends the opening ceremony of the Sochi Winter Olympics on Friday determined to prove his doubters wrong after militant attacks, and ballooning costs overshadowed preparations.
Putin has staked his reputation on hosting a safe and successful Games in the Black Sea resort of Sochi, where a spectacle before 40,000 spectators at the new Fisht Stadium will signal the start of the full sporting programme.
He will be joined by leaders from China, Japan and about 40 other countries in a show of support despite an international outcry over Russia's "gay propaganda" law passed last year.
U.S. President Barack Obama, French President Francois Hollande, British Prime Minister David Cameron and German President Joachim Gauck are not attending the Games.
Despite grumblings about poor accommodation and tight security, the mood among competitors and officials after a handful of early qualifying events in Sochi and at the mountain base 40 km (25 miles) to the northeast was upbeat.
"Conditions offered to the athletes are absolutely outstanding," said French Olympic Committee president Denis Masseglia on a clear, crisp morning.
Some 37,000 security personnel are on high alert over threats by Islamist militant groups based in the nearby north Caucasus region to attack the February 7-23 Games, the most expensive ever staged at an estimated cost of $50 billion.
Separatist guerrillas seeking an independent Islamic state in Chechnya and neighboring regions of southern Russia have vowed to disrupt the Olympics, which they say are taking place on land seized from Caucasus tribes in the 19th century.
Despite a "ring of steel" around venues, Russian forces fear a woman suspected of planning a suicide bombing may have slipped through.
SECURITY JITTERS
Security analysts believe that an attack is in fact more likely elsewhere in Russia to humiliate Putin, who launched a war to crush a Chechen rebellion in 1999.
Twin suicide bombings killed at least 34 people in December in Volgograd, 400 miles northeast of Sochi.
Moscow mayor Sergei Sobyanin on Friday tweeted to people in the capital "to be especially vigilant and careful on the metro, on ground transportation, at train stations etc." now that the Games were about to begin.
Underlining international unease over the threat of militant violence, the U.S. Transportation Security Administration is temporarily banning carry-on liquids, aerosols, gels and powders on flights between Russia and the United States.
The United States issued a warning on Wednesday to airports and some airlines flying to Russia for the Olympics to watch for toothpaste tubes that could hold ingredients to make a bomb on board a plane.
Deputy Prime Minister Dmitry Kozak told reporters in Sochi that Russian security services were working with colleagues from Europe and North America to minimize the risk of attack.
"There is no reason to believe that the level of danger in Sochi is greater than at any other point on the planet, be it Boston, London, New York or Washington," he said.