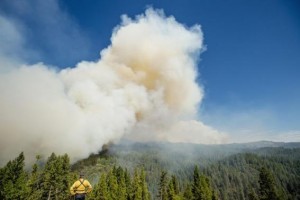 (Reuters) – Fire crews in California's rugged Sierra Nevada battled to gain the upper hand on Wednesday against a blaze that threatened 1,600 homes and has displaced 2,100 residents as flames roared for a fifth day through dry timber and brush west of Lake Tahoe.
The so-called King Fire, the most menacing of 11 major wildfires across the drought-parched state, has scorched at least 18,500 acres (7,490 hectares) of the El Dorado National Forest since it erupted Saturday, fire officials said.
As of Wednesday, a force of 2,500 firefighters had managed to carve containment lines around 5 percent of the blaze's perimeter, said California Department of Forestry and Fire Protection spokeswoman Lannette Rangel.
No buildings were believed lost, but CalFire said more than 2,400 structures, including at least 1,600 homes, were threatened by the blaze, and evacuation orders were in effect for 2,100 people.
Numerous campgrounds were closed in the forest, a popular destination for river rafting and outdoor recreation east of Sacramento. Two firefighters were reported hurt so far with non-life-threatening injuries, Rangel said.
The fire, stoked by strong, erratic winds, dry vegetation and low humidity, was burning largely unchecked in steep canyon terrain along the south fork of the American River and Silver Creek, north of the community of Pollock Pines.
Winds were blowing the flames mostly away from populated areas on Wednesday, Rangel said. But crews were bracing for an expected shift that would likely drive the fire back toward evacuated communities along U.S. Highway 50.
A principal objective, she said, was to "hold and control and improve fire lines" created as buffers along the southern and western edges of the fire zone.
Mounting danger from the blaze came after crews halted the advance of another fire hundreds of miles to the north in the Cascade range on Tuesday, after 150 buildings were lost in the town of Weed near Mount Shasta and the Oregon border.
Police volunteer Mark Merrill said two churches and a sawmill were among buildings damaged or destroyed in the historic logging town of 3,000 people.
More than 30 homes and two dozen other structures were consumed in a third fire in and around Sierra foothill communities south of Yosemite National Park.
California's fire season, which traditionally runs from May to October, is on track to be the most destructive on record, state fire managers say.
(Reporting by Alex Dobuzinskis and Steve Gorman in Los Angeles; Editing by Cynthia Johnston, Bill Trott and Eric Walsh)