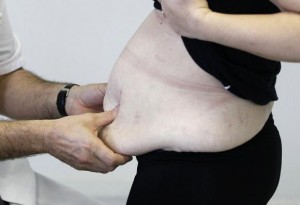 (Reuters) – Obesity is imposing an increasingly heavy burden on the world's population in rich and poor nations alike, with almost 30 percent of people globally now either obese or overweight – a staggering 2.1 billion in all, researchers have said.
The researchers conducted what they called the most comprehensive assessment to date of one of the pressing public health dilemmas of our time, using data covering 188 nations from 1980 to 2013.
Nations in the Middle East and North Africa, Central America and the Pacific and Caribbean islands reached staggeringly high obesity rates, the team at the University of Washington's Institute for Health Metrics and Evaluation in Seattle reported in the Lancet medical journal n May.
The biggest obesity rises among women came in Egypt, Saudi Arabia, Oman, Honduras and Bahrain. Among men, it was in New Zealand, Bahrain, Kuwait, Saudi Arabia and the United States.
The richest country, the United States, was home to the biggest chunk of the planet's obese population – 13 percent – even though it claims less than 5 percent of its people.
Obesity is a complex problem fueled by the availability of cheap, fatty, sugary, salty, high-calorie "junk food" and the rise of sedentary lifestyles. It is a major risk factor for heart disease and stroke, diabetes, arthritis and certain cancers. Chronic complications of weight kill about 3.4 million adults annually, the U.N. World Health Organization says.
During the 33 years studied, rates of being obese or overweight soared 28 percent in adults and 47 percent in children. During that span, the number of overweight and obese people rose from 857 million in 1980 to 2.1 billion in 2013.
That number exceeds the total world population of 1927, when it first hit 2 billion. Earth's population now tops 7 billion.
The researchers said obesity – once a malady of rich nations – now grips people of all ages, incomes and regions, with not one country succeeding in cutting its obesity rate.
"Two-thirds of the obese population actually resides in developing countries," said Marie Ng, a global health professor who was one of the researchers.
The problem was most acute in the Middle East and North Africa, with more than 58 percent of adult men and 65 percent of adult women overweight or obese. Bahrain, Egypt,Saudi Arabia, Oman and Kuwait saw big increases.
"We have to remind ourselves that obesity is really not a cosmetic issue. It's a main risk factor for morbidity and mortality," added global health professor Ali Mokdad, another of the researchers.
Obesity is appearing at increasing young ages, rising nearly 50 percent in children and adolescents worldwide.
Men tallied higher rates in developed countries. Women did so in developing countries. There was a possible ray of hope in rich countries, with the rate of increase in adult obesity slowing in the past eight years.
More than half of the world's obese live in just 10 countries: the United States, China, India,Russia, Brazil, Mexico, Egypt, Germany, Pakistan and Indonesia.
(Reporting by Will Dunham; Editing by Lisa Shumaker)