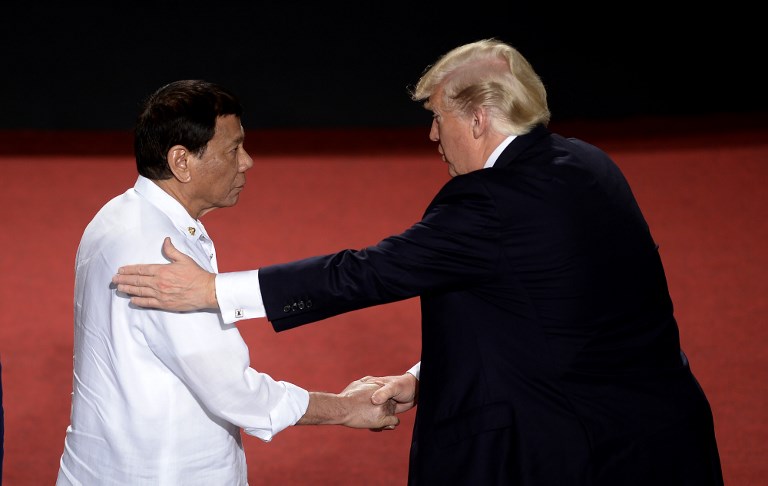 (Eagle News) — United States President Donald Trump made a report of his accomplishments during his almost-two week tour in Asia from the White House on Thursday (Manila time), and specifically mentioned the Philippine president, this year's chair of the 31st Association of Southeast Asian Summit in Manila which Trump also attended.
But instead of saying it was President Rodrigo Duterte who extended his gratitude to the Americans, Trump said it was "President Duarte of the Philippines" who did this.
"During our visit, President Duarte of the Philippines thanked the American people for supporting the recent liberation of Marawi from ISIS," Trump said, referring to the city in Mindanao that was overrun by Maute and the Abu Sayyaf who pledged allegiance to the Islamic State (ISIS).
Trump also hit back at critics of his trip and vowed a global campaign of "maximum pressure" on North Korea, warning that Pyongyang will not subject the world to "nuclear blackmail."
Trump said he had successfully galvanized opposition to North Korean proliferation during the trip that took him to South Korea, Japan, China, Vietnam and the Philippines.
"I made clear that we will not allow this twisted dictatorship to hold the world hostage to nuclear blackmail," he said in the televised statement a day after his return to the US.
Adding to that, Trump himself said that he had won a commitment from Chinese leader Xi Jinping to use Beijing's economic leverage to denuclearize the Korean peninsula.
Trump also suggested that Xi — who will send a special envoy to Pyongyang later this week — had ditched a proposal to freeze US military maneuvers in exchange for a freeze in North Korean proliferation.
"President Xi recognizes that a nuclear North Korea is a grave threat to China," Trump said. "And we agreed that we would not accept a so-called 'freeze for freeze' agreement like those that have consistently failed in the past." With a report from Agence France Presse
Video courtesy of https://twitter.com/StateDept