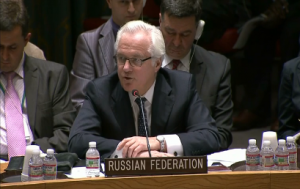 (Reuters) — The United Nations Security Council held an emergency session on Sunday night (April 13) to discuss the escalating crisis in Ukraine, just hours before a deadline by Kiev for pro-Russian separatists to disarm by Monday morning or face a "full-scale anti-terrorist operation" by its armed forces.
The Council began meeting at 8 p.m. (0000 GMT on Monday) at Russia's request afterMoscow called Kiev's plans to mobilize the army to put down a rebellion by pro-Russian militants in eastern Ukraine "criminal."
Ukraine along with several western nations including United States, United kingdom and France have blamed Russia for fomenting unrest in eastern Ukraine, after having moved troops into Crimea.
Russia's ambassador to the U.N. Vitaly Churkin addressed these accusations, insisting that any unrest in Ukraine originated from within its own populace. Churkin appealed to the council to use its influence with Ukraine to stop the launch of an anti-terrorist operation.
"Let us focus our attention on what we can actually do in this case. And I'm looking here at my western colleagues. Let us ensure that we do not allow the reckless actions of the Ukrainian authorities that right now are enshrined in the criminal decree of Mr. Turchinov (Ukrainian acting president Oleksander Turchinov) . And let us stop that decree from being implemented. That is going to have extremely significant consequences, first and foremost for the people ofUkraine, and that needs to be avoided," Churkin said.
Angered by the death of a state security officer and the wounding of two comrades near the flashpoint eastern city of Slaviansk, Ukrainian acting president Oleksander Turchinov gave rebels occupying state buildings until 0600 GMT to lay down their weapons. He blamed Russia, which annexed Ukraine's Crimea region when Moscow-backed former president Viktor Yanukovich fled after months of pro-Western protests, for being behind the rash of rebellions across Russian-speaking towns in eastern Ukraine. The deadline and the standoff with Russian troops at the border have raised fears of a military confrontation with Moscow.
After their prepared remarks to the council, the Ukrainian, American and Russian ambassadors traded further accusations
Ukrainian Ambassador to the U.N., Yuriy Sergeyev criticized his Russian counterpart for comparing developments now with those last December and this January.
"Mr. Churkin first of all you compared the situation in December and January with the current situation. Let's recall — then the people spoke out against the banditry authorities. And now it's the bandits who are against the people. There's a difference here. We cannot look calmly at the fact that several hundreds of separatists are holding thousands of people living in towns in fear. And we see that standoff that we have seen on the television from Kharkiv and Luhansk," Sergeyev said.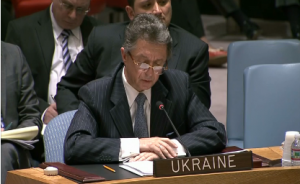 America's ambassador to the U.N. Samantha Power said it was hard to reconcile Russia's call for diplomacy in Ukraine with its actions in the region. She told the council that the violence in eastern Ukraine on Saturday (April 12) could be clearly linked to Russia.
"It is hard to reconcile the behavior of the Russian federation, the propaganda of the Russian federation, the military actions of the Russian federation which range from the massing of 40,000 troops on the border to the subversive activities inside Ukraine. It is hard to reconcile those acts with this appeal for diplomacy and de-escalation, an appeal that we wish were in fact sincere," she said.
The United States has said that it is prepared to step up sanctions against Moscow if pro-Russian military actions in eastern Ukraine continued.
After the emergency meeting ended, Churkin told reporters that it was the responsibility of theUnited States "to put an end to this provocation from Kiev which has taken the shape of this announcement that military force will be used in southeastern Ukraine".
"This is their responsibility. Clearly they're chaperoning the powers that be in Ukraine," Churkin said.
Ukraine has repeatedly said the rebellions are inspired and directed by the Kremlin. But action to dislodge the armed militants risks tipping the stand-off into a new, dangerous phase asMoscow has warned it will protect the region's Russian-speakers if they come under attack.
"We are trying to avoid any clashes. We do not want blood on our territory. This is not our war as I stated today. Not ours. The conflict is inspired from outside. That's why we we addressed Russian federation eighth or tenth time — don't interfere. If they understand that we can find the ways how to live together and how to settle the problem," Sergeyev told reporters.
The 15-nation council has held numerous emergency meetings on Ukraine but has been incapable of taking any concrete action because of Russia's sharp disagreements with theUnited States and Europe.