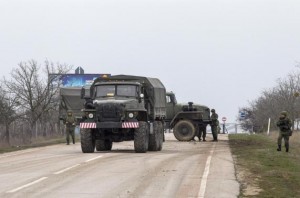 Ukraine accused Russia on Saturday of sending thousands of extra troops to Crimea and placed its military in the area on high alert as the Black Sea peninsula appeared to slip beyond Kiev's control.
Russia's RIA news agency said pro-Russian authorities in the region, which has an ethnic Russian majority, and the Russian Black Sea fleet based there had agreed to guard important buildings. Regional premier Sergei Aksyonov said that that Fleet personnel had already been deployed.
The peninsula's main civil airport at the fleet town of Simferopol announced it had closed its airspace. Russia accused Kiev-backed gunmen of attacking the Interior Ministry building and wounding personnel in "treacherous provocation".
Language emanating from Moscow was reminiscent of Cold War times when the Soviet Union felt its allied states of eastern Europe under threat from Western intrigues – something the Kremlin has cited in recent weeks as a factor in the crisis.
Germany described developments in the last few hours as dangerous. British foreign minister William Hague said he had spoken to Russian counterpart Sergei Lavrov and called for a 'de-escalation' of tensions.
Russia's parliament, flying in the face of U.S. President Barack Obama's warning against any Russian intervention, urged President Vladimr Putin to "to take measures to stabilize the situation in Crimea and use all available means to protect the people of Crimea from tyranny and violence."
After the overthrow last weekend of Ukrainian President Viktor Yanukovich, Crime quickly became the focus in a crisis with wide-ranging perils for the entire region. For many Russians, Crimea and its Soviet-era "Hero City" of Sevastopol, besieged by Nazi invaders, has a strong emotional resonance.
For Ukraine, independent of Russia since the collapse of the Soviet Union in 1991, and already facing an economic crisis, its loss would be an enormous blow.
"De facto Crimea is almost cut off from Ukraine," Volodymyr Fesenko, a political analyst at the Kiev-based Penta think tank told Reuters.
"The scenario of Crimea's withdrawal (from Ukraine) has been accelerated," he said in reference to a decision to bring forward a referendum on Crimea's status from May to March.
"After the referendum Crimea can formally remain a part of Ukraine, but de facto it is already clear that there will be a Russian protectorate."
Trains were operating normally between Crimea and the Ukrainian hinterland and roads were open, but major sea and air movements appeared to be under Russian control.
Ukraine's new leaders, who had pressed a long street campaign against Yanukovich after he rejected a deal with the European Union in favor of closer ties with Russia, appear hard pressed to handle events in Crimea.
They must also beware of any souring of the mood in the largely Russian-speaking industrial eastern regions that could raise the danger of the country of 46 million being split.
Interfax quoted the Ukrainian border guard as saying its vessels had been put on combat alert in the Crimea.
Armed men wearing combat uniform with no identification markings control two airports in Crimea, which hosts Russia's Black Sea Fleet, and have taken over the regional parliament in what Kiev described as an occupation by Moscow's forces.
"It is unacceptable when armored Russian military vehicles are out in the centre of Ukrainian towns," Ukrainian Prime Minister Arseny Yatseniuk said at the start of a government meeting in Kiev.
"We do not give in to provocative actions, we do not use force and we demand that Russia stop its provocative actions and return the troops to base."
Russia says any movements by its military in Crimea are in line with agreements with Ukraine in the lease of the naval base in the port city of Sevastopol and accused Kiev of trying to destabilize the Black Sea peninsula.
(Reuters)