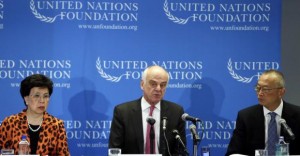 (Reuters) – The United Nations said $600 million in supplies would be needed to fight West Africa's Ebola outbreak, as the death toll from the worst ever epidemic of the virus topped 1,900 and Guinea warned it had penetrated a new part of the country.
The pace of the infection has accelerated, and there were close to 400 deaths in the past week, officials said on Wednesday. It was first detected deep in the forests of southeastern Guinea in March.
The hemorrhagic fever has spread to Liberia, Sierra Leone, Guinea, Nigeria, and Senegal, and has killed more people than all outbreaks since Ebola was first uncovered in 1976. There are no approved Ebola vaccines or treatments.
An experimental Ebola vaccine that Canada said it would give to the World Health Organization for use in Africa was as of Wednesday still in the lab that developed it as officials are puzzled over how to transport it.
Ottawa said on Aug. 12 that it would donate between 800 and 1,000 doses of the vaccine, being held at Canada's National Microbiology Laboratory in Winnipeg.
"We are now working with the WHO to address complex regulatory, logistical and ethical issues so that the vaccine can be safely and ethically deployed as rapidly as possible," Health Canada spokesman Sean Upton said in a statement.
"For example, the logistics surrounding the safe delivery of the vaccine are complicated." Upton said one of the challenges was keeping the vaccine cool enough to remain potent.
Human safety trials are due to begin this week on a vaccine from GlaxoSmithKline Plc and later this year on one from NewLink Genetics Corp.
The U.S. Department of Health and Human Services said on Tuesday a federal contract worth up to $42.3 million would help accelerate testing of an experimental Ebola virus treatment being developed by privately held Mapp Biopharmaceutical Inc.
Dr. David Nabarro, senior U.N. Coordinator for Ebola, said the cost of getting the supplies needed by West Africa countries to control the crisis would amount to $600 million. That was higher than an estimate of $490 million by the WHO last week.
Moving workers and supplies around the region has been made difficult by restrictions by some countries on air travel and landing rights as they try to control Ebola's spread.
"We are working intensively with those governments to encourage them to commit to the movement of people and planes and at the same time deal with anxieties about the possibility of infection," Nabarro said.
He said the president of Ghana has agreed to allow an airbridge, or route, through the country to affected regions to move people and supplies.
Ivory Coast, which closed its borders with Liberia and Guinea last month, said on Tuesday it would open humanitarian and economic corridors to its two western neighbors.
EPIDEMIC GAINS, EVACUATION EYED FOR DOCTOR
Dr. Margaret Chan, director-general of the World Health Organization (WHO) told a press conference in Washington, "This Ebola epidemic is the longest, the most severe and the most complex we've ever seen."
Chan said there were more than 3,500 cases across Guinea, Liberia and Sierra Leone.
In Liberia, Dr. Rick Sacra, a 51-year-old Boston physician infected with Ebola could be medically evacuated as soon as Thursday, according to staff at the hospital where he worked. Two other Americans recovered from the virus after being taken to the United States for treatment last month.
Amid shortages of equipment and trained staff, more than 120 healthcare workers have died in West Africa in the Ebola outbreak. The Liberian government has begun offering a $1,000 bonus to any healthcare workers who agreed to work in Ebola treatment facilities.
Guinea, the first country to detect the virus, previously said it was containing the outbreak but announced that nine new cases had been found in the prefecture of Kerouane, some 750 km (470 miles) southeast of the capital Conakry.
"There has been a new outbreak in Kerouane, but we have sent in a team to contain it," said Aboubacar Sikidi Diakité, head of Guinea's Ebola task force.
The latest outbreak started after the arrival of an infected person from neighboring Liberia, and a total of 18 people were under observation in the region, the health ministry said.
Guinea has recorded 489 deaths and 749 Ebola cases as of Sept. 1, and the epicenter of the outbreak has shifted to neighboring Liberia and Sierra Leone.
Guinean President Alpha Conde urged healthcare personnel to intensify efforts to avoid new infections. The disease is spread by physical contact with body fluids of infected people or contaminated articles, such as needles.
"Even for a simple malaria (case), you have to protect yourselves before consulting any sick person until the end of this epidemic," Conde said in a televised broadcast. "We had started to succeed, but you dropped the ball and here we go again."
The haemorrhagic fever was gaining in Nigeria where 18 cases, including 7 deaths, have been reported, three in the oil hub of Port Harcourt. The WHO warned that the outbreak there "has the potential to grow larger and spread faster than the one in Lagos" as containment measures had been less effective.
The fifth country infected was Senegal, which confirmed its first case last week: a student who slipped across the border from Guinea and made his way to the coastal capital Dakar.
More than 50 cases of Ebola have been reported in a remote northern jungle region of Democratic Republic of Congo, although these are not linked to the West African cases.
Since Ebola was first detected in Congo in 1976, WHO has reported more than 20 outbreaks in Africa and 1,590 victims.
The WHO warned last week that the Ebola epidemic in West Africa could infect more than 20,000 people and spread to 10 countries.
WORRIES VIRUS COULD MUTATE
Dr. Thomas Kenyon, director of the U.S. Centers for Disease Control and Prevention (CDC) Centre for Global Health, said on Wednesday the outbreak was "spiraling out of control" and warned that the window of opportunity for controlling it was closing.
"Guinea did show that with action, they brought it partially under control. But unfortunately it is back on the increase now," he told a conference call. "It's not under control anywhere."
He warned that the longer the outbreak went uncontained, the greater the possibility the virus could mutate, making it more difficult to contain. While Ebola is transmitted in humans by contact with bodily fluids of the sick, suspected cases of airborne infection have been reported in monkeys in laboratories.
A senior U.S. official rebutted a call from global aid organization Medecins Sans Frontieres (MSF) for wealthy nations to deploy specialized biological disaster response teams to the region. MSF on Tuesday had warned that 800 more beds for Ebola patients were urgently needed in the Liberian capital Monrovia alone.
"I don't think at this point deploying biological incident response teams is exactly what's needed," said Gayle Smith, Special Assistant to the President and Senior Director for Development and Democracy on the National Security Council.
She said the U.S. government was focusing on rapidly increasing the number of Ebola treatment centers in affected countries, providing protective equipment, and training local staff. "We will see a considerable ramp-up in the coming days and weeks. If we find it is still moving out of control, we will look at other options," Smith told a conference call.
(Additional reporting by Toni Clarke in Washington, Daniel Flynn, Bate Felix in Dakar and Rod Nickel in Canada; Writing by Bate Felix, Emma Farge, Toni Reinhold; Editing by Jane Baird)