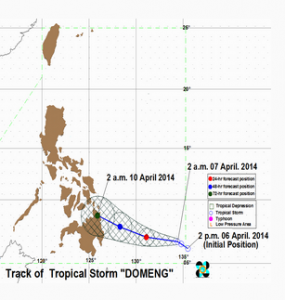 MANILA, April 7 (PNA) — Tropical storm "Domeng" has maintained its strength but reduced its speed and continues to move west northwest, according to the Philippine Atmospheric Geophysical and Astronomical Services Administration (PAGASA) on Monday.
In an interview, PAGASA weather forecaster Jun Galang said that as of 4 a.m., "Domeng" was spotted 880 km east of Davao City (6.9°N 134.3°E) with maximum sustained winds of 65 kph near center and gustiness of up to 80 kph.
He added that Domeng has slowed down from 20 kph to 15 kph and continues to move west northwest.
Galang said that due to extended cloudiness , some parts of Mindanao and eastern Visayas will experience cloudy skies with scattered rainshowers and isolated thunderstorms.
PAGASA said the estimated rainfall amount is from 5.0 – 15.0 mm per hour (Moderate – Heavy) within the 400 km diameter of the Tropical Storm
He said the eastern portions of the Visayas and Mindanao would be the initial areas projected to feel its effect starting Wednesday.
Due to the storm, he noted that areas located in the Eastern Visayas and Eastern Mindanao were expected to have moderate to heavy rains starting Tuesday afternoon or evening.
And if "Domeng" will maintain its present direction and speed, Galang said it may make landfall over the Surigao provinces in Mindanao or in Samar-Leyte area in Eastern Visayas on Wednesday.
Samar and Leyte were two of the areas devastated by super typhoon "Yolanda" last November.
Galang advised residents in these areas to be prepared and to closely monitor the weather situation.
However, Galang said they do not expect "Domeng" to further intensify into a typhoon in the coming days.
He said numerical models were only showing that the cyclone may slow down, prolonging its stay inside the PAR.
Galang further noted that some parts of Southern Luzon and Metro Manila may also feel the effect of the cyclone when it is already on its way towards the West Philippine Sea by Thursday or Friday.
He said "Domeng" will likely exit the Philippine territory either Saturday or Sunday via Palawan or Mindoro then towards the West Philippine Sea.
He added that the occurrence of tropical cyclone during this period is not unusual.
He noted that every April, PAGASA expects "zero to one" cyclone to affect the country.
He said the last time a storm inside the Philippine territory was experienced was during the same period in 2011 and was named "Amang."
However, Galang noted that it was only a tropical depression and did not make landfall.
Meanwhile, in separate interview weather forecaster Jori Loiz said that Domeng will not affect Luzon including Metro Manila as these areas continue to experience fair weather on Monday. He said except Cagayan Valley, the rest of the country including Metro Manila will be partly cloudy to cloudy with isolated rainshowers or thunderstorms mostly in the afternoon or evening.
Due to tail end of cold front ,Cagayan Valley will experience cloudy skies with scattered rainshowers and isolated thunderstorms.
PAGASA said moderate to strong winds blowing from the northeast will prevail over the northern and eastern section of the country and the coastal waters along these area will be moderate to rough.
Elsewhere, winds will be light to moderate coming from the northeast to east with slight to moderate seas.
Loiz said Sunday temperatures in Metro Manila rose to a high of 33.1 degrees Celsius at 11 a.m., and was coolest at 6 a.m. at 22.1 degrees.
He also said that the hottest temperature that was recorded in Metro Manila so far this year was 35.7 degrees Celsius last March 28.
On Sunday, the highest temperature was recorded at 36.4 degrees Celsius in Dagupan City in Pangasinan, followed by 36.2 in Subic, Zambales , then Cabanatuan City, Nueva Ecija with 34.5, Sangley Point in Cavite recorded at 34 and 31 in Tuguegarao, Cagayan.
In the Visayas region, Catabalogan, Samar was recorded at 33 degrees Celsius followed by Dumaguete with 32.5 and Mactan in Cebu temperature at 31 degrees Celsius.
In the Mindanao area, General Santos City with 36 degrees Celsius followed by Cotabato with 34.5 and Davao with 33.1 degrees Celsius.
But so far, the hottest temperature in the country for this year was recorded in Tuguegarao at 37.9 degrees Celsius recorded last March 31. (Philippine News Agency)