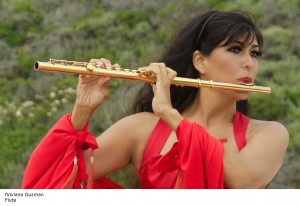 The Flutopia Flute Orchestra will make its public debut in two concerts in this year's Flute Revelries Festival in March at the Cultural Center of the Philippines.
The group will be first featured in a free admission concert at the CCP Little Theater Lobby onMarch 27, 2014, Thursday at 4:45 PM. Its second appearance will be at the Festival's closing gala concert on March 29, Saturday at 8 PM at the CCP (venue).
The gala concert showcases the the Flutopia Flute Orchestra in tandem with guest artist, the Chilean-American flutist, Viviana Guzman.
Guzman will be performing solo literature for Flute and Piano, assisted by pianist Raul Sunico. She will perform with the Flutopia Flute Orchestra as soloist in the Fantasie Pastorale Hongroise of Franz Doppler.
For the gala concert, the Flutopia Flute Orchestra will perform works by Johann Sebastian Bach, Felix Mendelssohn, Franz Doppler, Gustav Holst, and Rogers and Hammerstein. These classical standards are interspersed with the music of present day composers Rick Pierce, Gary Schocker and Tango Master, Astor Piazzolla.
The conductor of the Flutopia Flute Orchestra in both debut performances is University of Santo Tomas Orchestra conductor and The Philippine Philharmonic Orchestra resident conductor, Herminigildo Ranera.
The Flute Orchestra is an exciting ensemble of local professional flutists and talented university students that will serve as the resident Flute Choir of the three-day "Flutopia Revelries Fest" onMarch 27-29, 2014. The Ensemble numbers from 25-30 Flutes, which includes Piccolos, C Flutes, Alto, and Bass Flute as the core of the ensemble. The richer lower sonority of Flutopia Flute Orchestra is uniquely enhanced by the inclusion of a Bassoon and a Double bass.
Flutopia Flute Orchestra serves as a gateway for professional Flutists and aspiring emerging flutists to pursue quality in their craft while striving for world-class excellence. Under the stewardship of the founders Rosemarie Poblete, Edgardo "Gary" Silang-Cruz and David Jerome Johnson, the mandate of the group is to generate and sustain a love of flute literature and to ensure its public performance.