Today's Teenager Are Braver, Independent and Fearless
By: Natalie Kate Ann Juntado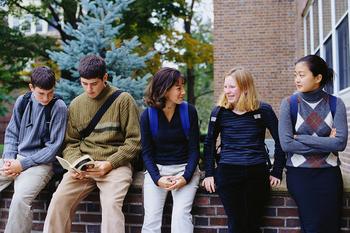 Looking back 10 years ago, if i had to describe a cool teenager, it would be someone who is playfully enjoying his skateboards with his funky little friends. Person who has a cassette tape listening to the Backstreet Boys, some might be watching Johny Bravo on their Saturday morning. But those were the days, Generation Y back then are very far from what we see on teenagers today.
The rapid and massive evolution in trends, values, traits and education has brought so much change in today's generation or what we say modern teenagers. The existence of social media and the drastic improvement of internet made teenagers today more creative and autonomous. We may have an aggressive media responsible for it, but this what makes teenagers of today more extraordinary than ever. Let us face the fact people who were carried on the 'Generation Y' are most likely dependent and life back then are not documented, but that doesn't mean life back then is boring, but if you get a look back from today, you'll see a great difference in the direction of spirit.
Today, teenager is more self-reliant, independent, peculiar, and fierce other than the adults. The world of competition today has made some growing up more of a hasty expedition compare to the manual process. With so rapid changes, we cannot blame the generation of today's teenagers to be left behind, as for they always want to be in the main focus and attention. They are hungry for a change, keen to volunteer and looking for a means of digital interaction. However, teenagers back then in the 80's and 90's are friendlier and felt less pain than to compare today. Unlike teenagers today are experiencing more on family problems and suicidal attempts due to the lack of care and attention.
The various species of teenagers today are very emotional and tough ones. Some are nerds, jocks, shopaholic, delinquent, but either way, teenagers today are different. They are more aware of what is happening in today's complex society. They are independent enough since most of the teenagers today are sacrificing their own comfort by studying away from their parents. Brave enough to fight peer pressures. Fearless enough to pursue their dreams and goals in their life, no matter how hard the journey in between maybe.
We interviewed 3 various teenagers aging from 16-18 years, and we asked them questions most encountered by teenagers like how they handle peer pressure, their major issues ever encountered, how they manage their money, what do they do if they got a problem and whom they confess their problems first.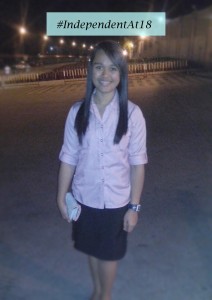 Marian Mae Centino, 18, ECE Student. Marian is a 2nd-year ECE student said she was once a victim of bully and made a wrong move by letting herself surrounded by people who she finds a bad idea. "I was a shifty student, getting along with strangers in one class was kinda hard on me at first." She said, there were times her classmates were persuading her to do things she's not comfortable." When asked her how she did to overcome those dillemmas, "I prayed for it, asked Him some guidance and determination to keep my heads up." Marian shared us her 3 major issues she ever encountered and according to her these are, 'Bullying', 'Being Away From Her Family', and 'Feeling Outcast'. "Keep yourself busy and do not forget to set a time to go to church and  talk with God. It is the most effective way to beat stress. Then I share it to my parents since they are the only ones who knows me well, and of course i'd share it to people who understand my feelings too, my true friends" Talking about how she handles her money, Marian has a lot of guilty pleasures, "I easily attach to things I find cute, then afterwards, I felt regret once I bought it."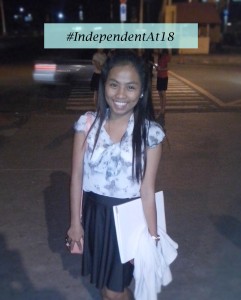 Kristine May Mirabuna, 18, Marketing Student. At the age of 16, Kristine flew away from her province to earn her degree miles away with her family. Kristine, according to her is straightforward, if someone is telling her to do things that is beyond her limit, she would actually say 'NO' to it. Advising her friends to do good things is what she normally do. "I tell them my side and as much as possible, I engage them to do the right thing also" Kristine at the very young age need to adjust coping with other people, sometimes she has troubles understanding her roommates, that make her miss her home even more. "There were times I felt a castaway, i think it's normal to feel that way, especially you are living in one roof with people who has the same age with you." When it comes to her daily expenses, Kristine confessed she is not good in managing at her allowance. "I experience this sort of problem; buy anything even though it's not that significant. That is why i find it so difficult to earn money." On the other note, when asked her how she able to cope her problems, "I think what makes me different from other teenagers out there is that i normally talk to God what are my difficulties, i ask Him to help me get through with my problems and it really works!"
Jano Guinoo, 16, 4th year High School.  "I will do whatever it takes for me to become a Basketball star!" This proves how ambitious teenagers today are. Janoo grew up as the only boy in his family, and some of his colleagues are teasing him as gay. But he never mind those bullies because for him, throwing rocks back on those people may harm him even more. "At the end of the day, it's really up to you if you want to mind those people, and i chose not to." Janoo's father died at his young age, and there were times he can;t help but to miss his father so much. "Actually before he died, i told him i will become a Basketball Star." Janoo shared to us his major problems and how he was able to overcome those hard times. "Bully, when my father died, and entering into a relationship at the very young age. I asked some advice to my friends well because i am much more comfortable talking with them. But most of all my parents raised me to seek advice to our Father from above." Janoo, on managing his allowance, are careful. "Before I purchase something, I ask myself first a million times if it is genuinely necessary." For Janoo, saving for his future is the most important thing above all. Janoo #FearlessAt16
These teenagers are different to each other, different way of living, different perspectives. But there is only one common denominator between them, they are tough.  Some teenagers are brave in a different way, like some are in the middle of state fighting for a cancer, some are trying to be strong as a young parent. Others are experiencing a broken- family-situation, which somehow, some teens are difficult to please, but we know behind these conditions are the dark pasts that keeps on haunting them, but at least they are stand-still.
If you are a teenager, how is your life right now then? How do you handle hard times?
Share us your story and inspire others. .