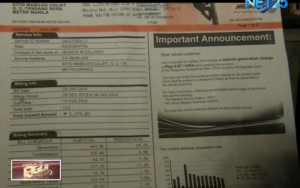 MANILA, Philippines — The Supreme Court on Tuesday extended for another two months, or until April 22, the temporary restraining order (TRO) against the planned P4.15 per kilowatt-hour power rate hike of the Manila Electric Company (Meralco).
The extension of the TRO effectively prevented Meralco from implementing the rate hike.  The TRO was supposed to end on February 23.
The SC en banc decided to extend the TRO after acting on the "urgent motion for extension of the TRO and/or preliminary injunction" filed by petitioners led by Bayan Muna representatives Neri Colmenares and Carlos Zarate, and officials of other party-list groups and non-government organizations.
The petitioners sought to restrain the Energy Regulatory Commission and Manila Electric Company from implementing the rate hike during the "pendency" of their petitions.
They also sought to "enjoin the imposition or collection" by respondent generation companies and suppliers of the generation charges which were subject of the various petitions.
The TRO granted by the Supreme Court enjoined generating companies, specifically Masinloc Power Partners Co., Ltd., San Miguel Energy Corporation, South Premiere Power Corp., First Gas Power Corporation, and the National Grid Corporation of the Philippines from demanding and collecting the deferred amounts representing the affected costs based on the matters earlier raised by Meralco, particularly in its December 5, 2013 letter.
The high court also granted a 60-day TRO that enjoined the Philippine Electric Market Corporation from demanding and collecting the deferred amounts representing the affected costs raised by Meralco.
Meralco, in its comment, had earlier warned of rotating blackouts if the restraining order issued by the high court would not be lifted.
It had also warned that the "entire power industry may come to a screeching halt" as it may not be able to buy electricity needed for the succeeding months anymore.
But in a statement after the SC extended the TRO, it said that it would abide by the high court's decision.
"Though we have not received the official order from the Supreme Court yet on the extension of the TRO covering the December 2013 rates, Meralco will abide by the decision and will continue to discuss with the GenCos, PEMC, Department of Energy, ERC and consumer groups and other stakeholders," its statement said.
"Meralco is still hopeful that this case before the Supreme Court will be resolved at the soonest possible time to the satisfaction of all stakeholders."
Aside from Bayan Muna, other petitioners were representatives of Gabriela Women's Party, ACT Teachers Party List, Kabataan Party List, and National Association of Electricity Consumers for Reform (NASECORE) among others. (Eagle News Service)