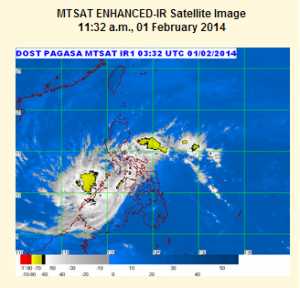 MANILA, Feb. 1 (PNA) — Tropical storm "Basyang" (Kajiki) has maintained its strength and speed as it continues to make landfall over the islands of Visayas, the state weather bureau said on Saturday.
In an interview, PAGASA weather forecaster Fernando Cada said tropical storm Basyang has a total of eight landfalls after making five landfalls Friday night.
He said that around 12:30 a.m. Basyang made a landfall at the City of Naga in Cebu then at 1:30 a.m. in San Carlos, Negros Occidental and another at 3:30 a.m. in Guimaras province.
Cada said that as of 6 a.m., tropical storm Basyang was located at 82 km west of Iloilo City or 353 northeast Puerto Princesa City (10.7°N 121.8°E) packed with maximum sustained winds of 65 kph while its gustiness of 80 kph.
He added that Basyang maintained its movement at westward and speed at 39 kph.
With its speed and movement, tropical storm "Basyang" is expected to cross Northern Palawan and will exit to the West Philippine Sea by Sunday morning, Cada said.
He also said Basyang is now approaching Northern Palawan and their is probability to make another landfall in the area.
He added that tropical storm Basyang is expected to weakened while exiting the country due to after hitting landmass.
Meanwhile, Cada said the public storm warning signals in Mindanao have been lowered.
According to Cada, the seven areas placed under public storm warning signal 2 (61-100 kph winds) are Palawan including Calamian Group of Islands, Guimaras, Aklan, Capiz, Antique and Iloilo.
Public storm warning signal no. 1 (30-60 kph winds), on the other hand, was hoisted over Romblon, southern part of Occidental Mindoro, southern part of Mindoro, Negros Oriental, Negros Occidental and Cebu.
"Residents living in low-lying and mountainous areas under public storm warning signals 2 and 1 are alerted against possible flash floods and landslides.
Likewise, those living in coastal areas under signal 2 are alerted against storm surges," PAGASA warned.
The agency said Basyang may bring rainfall of five to 15 millimeters per hour (moderate to heavy) within its 400-km diameter.
PAGASA also advised that fishing boats and other small seacrafts not to venture out into the eastern seaboard of Central Luzon, eastern seaboard and southern seaboards of Southern Luzon and eastern seaboard of Visayas due to the surge of northeast monsoon. (source: Philippine News Agency)