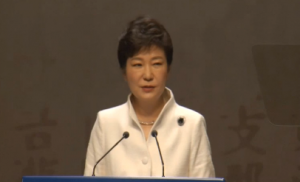 (Reuters) — South Korean President Park Geun-hye on Saturday (March 1) urged Japan to stop denying the past during an official ceremony to mark Independence Movement Day.
This year commemorates the 95th year of the declaration of the nation's independence from Japanese colonisation on March 1, 1919.
Japan's ties with South Korea are increasingly strained over a host of issues, including the territorial rows and Japanese Prime Minister Shinzo Abe's visit late last year to the Yasukuni Shrine, where convicted war criminals are honoured along with millions of war dead.
The conservative Abe has said he wants to revise Japanese history to have a less apologetic tone, a sensitive topic for Asian neighbours such as South Korea and China, where memories linger of Japanese aggression before and during World War Two.
Speaking during an official Independence Movement Day event, Park urged Japan to "write a new history of truth."
"I expect the Japanese government to stop denying the past and write a new history of truth and reconciliation so that we can walk together towards cooperation, peace and co-prosperity," she said.
The anniversary comes as a senior official said on January 21 that Japan will review the testimony of South Korean women who served in wartime brothels, but he gave no indication whether Tokyo might water down a 1993 apology on the issue that has long caused friction with its neigbhbours.
Japan's Education Minister Hakubun Shimomura said the ministry was revising the manuals to teach "properly" about Japanese history and that it would make diplomatic efforts to explain the move to Japan's neighbours. He said the teaching manuals would be changed to make clear that the rocky islets controlled by South Korea but claimed by both nations, known as Takeshima in Japan and Dokdo in South Korea, were Japanese territory.
"I believe the Japanese government should make the right and courageous decision so that the two countries will be able to overcome the painful history and move toward a future of new prosperity," Park added.
Looking to North Korea, Park made a formal proposal to North Korea on Saturday to hold family reunions regularly, uniting families separated since the 1950-53 Korean war, a sign Seoul is seeking to improve relations with the North.
"There is not much time left for these elderly Koreans. The event in which separated families reunite should not be a special occasion any more. I propose to North Korea to make family reunions regular in order to ease the deep sorrow of the separated families as soon as possible," said Park.
The reunions used to be held roughly annually, but until this February had not taken place since 2010 when tensions between the two Koreas spiralled after the South said the North sank one of its naval vessels.
The latest family reunion was held on February 20-25 at the Mount Kumgang resort just north of the border and a total of 813 family members met in tears and joy.
Elsewhere in the capital, about 200 South Koreans re-enacted the Independence Movement Day against Japanese rule.
The participants, clad in South Korea's traditional school uniforms and Japanese military uniforms, gave three cheers while waving South Korea's national flags.
"I came here to volunteer because I am very angry at Japan trying to distort the history when the truth remains unchanged and I hope the Japanese government will admit the truth as soon as possible," said 22-year-old South Korean re-enactment participant Park Jeong-hyun.
Both China and Korea suffered under Japanese rule, with parts of China occupied in the 1930s and Korea colonised from 1910 to 1945.