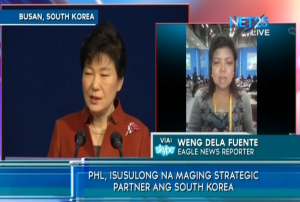 By Rowena dela Fuente (Eagle News Service)
Busan, South Korea, Dec. 11 (ENS) — South Korean President Park Geun-Hye today pledged her country's commitment to help the Philippines recover from the devastation brought about by Typhoon Ruby which hit Eastern Visayas, Southern Luzon and some Mindanao provinces.
During the bilateral meeting between President Aquino and President Park today (Dec. 11), the South Korean leader expressed her sympathies and condolences to the families affected by Typhoon Ruby.
She also promised to work and support the Philippine government in its recovery efforts from the typhoon's devastation.
President Aquino, on the other hand, thanked President Park for the assistance given by the Republic of Korea in all the natural calamities the country had experienced.
He recalled that during the devastation of typhoon Haiyan or Yolanda, South Korea was among the countries that first offered help.
Until now, President Aquino said the joint support group from Korea is still in Leyte.  The same group had also recently experienced the devastation of Hagupit or Ruby in Leyte.
President Aquino also conveyed to President Park the request from the people of Leyte for the extended stay of the South Korean joint support group, as its members have already built rapport with local government officials in implementing recovery and rehabilitation efforts in the area.
Also in their bilateral meeting, President Aquino said the Philippine government would pursue a strategic partnership with South Korea.
The president noted that the two 'sister democracies' face the 'same threats and challenges' in an evolving region.
He also conveyed the country's intention to seek a comprehensive strategic partnership, while sharing the values of freedom, respect for human rights, and adherence to the rule of law.
So far, the Philippines only has two strategic partners, namely the United States and Japan, but it is also working on the same with Vietnam.
President Aquino arrived here in Busan, South Korea earlier today to attend the 25th Commemorative year of the Association of South East Asian Nation or ASEAN and the Republic of Korea.
Part of the President's schedule was his bilateral meeting with the South Korean President.
They are expected to discuss efforts to strengthen ties between the two countries, especially in the areas of economy, regional security, tourism and people-to-people exchange.
In his departure speech at the Ninoy Aquino International Airport this morning, President Aquino stressed that South Korea is a close friend of the Philippines.
Although he initially decided to cancel his attendance in this year's ASEAN-ROK Commemorative Summit because of Typhoon Ruby, the President changed his mind when he learned that local government officials and government agencies involved in the disaster had effectively implemented the preventive measures to avoid major damage from the typhoon.
The President was accompanied by Finance Secretary Cesar Purisima, Trade Secretary Gregory Domingo, Secretary to the Cabinet Jose Rene Almendras, Communications Secretary Sonny Coloma, Presidential Management Staff Chief Julia Abad and Presidential Protocol Chief Celia Anna Feria.
The office of Executive Secretary Jojo Ochoa also reported that the government had allotted  P11.2 million for the expenses of the presidential trip.  This will cover transportation, accommodation, food, equipment and other requirements of the Chief Executive and his 48-member delegation.  (Rowena dela Fuente-Deimoy, Eagle News Service)