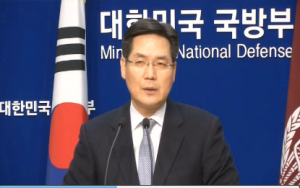 (Reuters) — South Korean Defence Ministry said on Friday (February 28) they view the launch of North Korea's short-range missiles as intentional.
A media official at the ministry said North Korea fired four missiles over the sea off its eastern coast on Thursday (February 27), but provided no information as to the purpose of the firing.
"This is the first time that North Korea has fired scud missiles since 2009. However, of all the occasions, they fired as the Key Resolve exercise was ongoing and after family reunions. We find the launch very intentional," said the defence ministry spokesman Kim Min-seok at a regular news briefing in Seoul.
"Regardless of this situation, the Key Resolve exercise will continue. Also North Korea's missile launch is considered as a provocation, so we will be prepared (against additional provocations)," Kim added.
The firing came days after the beginning of annual joint U.S. and South Korean military exercises which the North routinely denounces as preparation for war.
The North was angered this month when a nuclear-capable U.S. B-52 bomber made a sortie overSouth Korea, though the flight did not trigger a sharp escalation of military tension.
South Korea's Yonhap news agency said the missiles fired on Thursday were believed to be Scudshort-range missiles, with a range of about 200 km (125 miles), which means they can hit targets in South Korea, but can not reach Japan.
The South Korean Unification Ministry, in charge of the inter-Korean ties, said the ministry hoped the launch would not affect ties between the countries.
"I hope the inter-Korean relations and family reunions (in the future) would go well without having affected by North Korea's missile launch," said the ministry spokesman Kim Eui-do on Friday (February 28).
Ties between the two Koreas are often fraught, but last week, pre-selected South Koreans crossed into the North to be reunited with family members they had not seen since the 1950-53 Korean War.