By Jay Paul Carlos
QUEZON City, Philippines (Eagle News April 20) – Undoubtedly one of the fastest food fads to take over the country is the milk tea craze. As more and more Pinoys got hooked to the delicious taste, more and more milk tea stores and booths opened up until you cannot walk a few yards without stumbling into one. Literally, anywhere you go, you can satisfy your craving for milk tea.
Until the infamous event happened.
When two customers of a milk tea shop in Sampaloc, Manila complained about the foul-tasting milk tea they bought, the shop owner also took a sip. What followed has struck fear among avid milk tea drinkers.
A few minutes after sipping the drink, the two customers collapsed as shown by the CCTV recording of the incident.  One of them later died.  Even the shop owner died instantly after taking a sip of the drink.  The other customer was lucky enough to have survived after being rushed to the hospital.
The authorities are still investigating the cause of death, and police suspect foul play.   Health authorities are still trying to determine the toxic ingredient that may have been added to the milk tea.
And with that, the Pinoys' craving for milk tea was somewhat dampened.   Pinoy milk tea drinkers became more cautious and careful as can be gleaned from a poll recently conducted by eaglenews.ph.
In the poll, 54. 8% said that they would not drink milk tea anymore. But what is surprising is that it is not an overwhelming majority, as almost half or 45.2% bravely said that they would still drink milk tea despite this incident.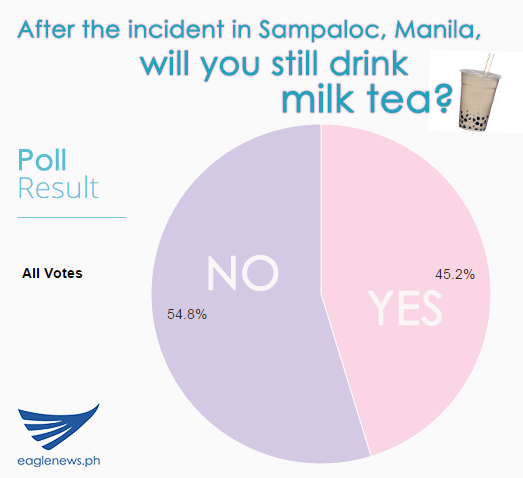 In the comments section, many said that they will still drink milk tea but they will make sure that they will buy their drink from known brands to ensure the quality and safety of their favorite drink. Others said that the poisoning incident was just an accident and that the chances of it occurring again are slim!
Of course, we have to admire the bravery of one of our followers, who not only said "Yes, I will still drink milk tea" but also shared a photo of her with the said drink!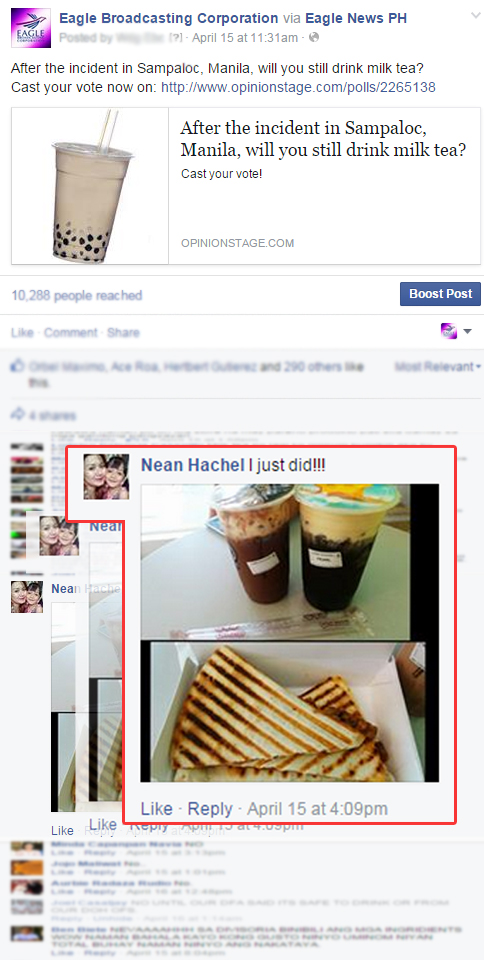 Whether you will still drink it or not, please remember that we should always be careful with what we eat and drink!
(Eagle News Service, additional research by Aimee Mendoza)