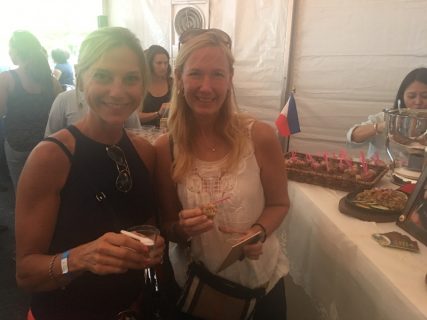 By Ace Ramirez
EBC Washington D.C. Bureau
WASHINGTON D.C. (Eagle News) – Chopped pork grilled to crispy perfection, topped with onion and chili peppers, garnished on the side with slices of cucumber and tomatoes, and served on a sizzling hot plate – the Philippines' inarguably the most popular appetizer graced and aced the 2017 Citi Open Tailgate Party at the Rock Creek Park Tennis Center.
Over 150 guests from the Citi Open tournament sampled the savory dish served by the Philippine Embassy as well as the unique cultural dishes showcased by 4 other participating embassies namely Barbados, Chile, Honduras and Peru. The tailgate event's theme was "Taste of Events DC Embassy Chef Challenge."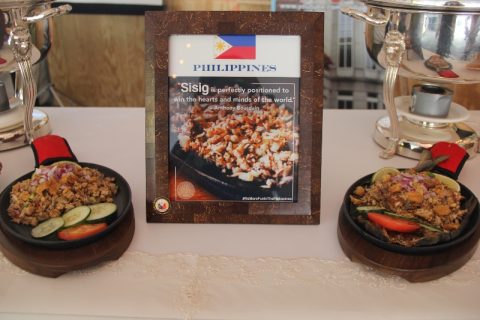 "The Citi Open tailgate event is a very good opportunity to promote unique Filipino food traditions such as Sisig to the mainstream Washington community. Gastrodiplomacy remains to be a major thrust of the Embassy's cultural promotion program, and being here allows us to share our country's rich and diverse culture through food," said Philippine Embassy Chargé d'Affaires ad interim Minister Patrick Chuasoto.
Although pork is the more popular meat of choice when cooking Sisig, the Philippine Embassy also showcased Bangus (milkfish) Sisig, thanks to chef Cho Ortega of the Filipino restaurant Lumpia, Pansit, atbp who catered the Sisig served at the event.
"People were curious about what we served. Cooking Bangus Sisig is like a work of art. You put a lot of attention to details; debone, season, fry, dice, sauté then garnish. In the end, it's a wonderful creation and a tasteful Filipino dish that people love," said Chef Cho Ortega.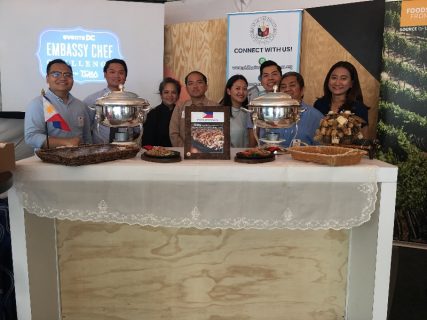 The Philippine Embassy's Economic section spearheaded the participation to the Citi Open tailgate, with support of the Office of the Philippine Agriculture Attaché and the cooperation of the Philippine Trade and Investment Center in Washington, D.C.
(Eagle News Service)