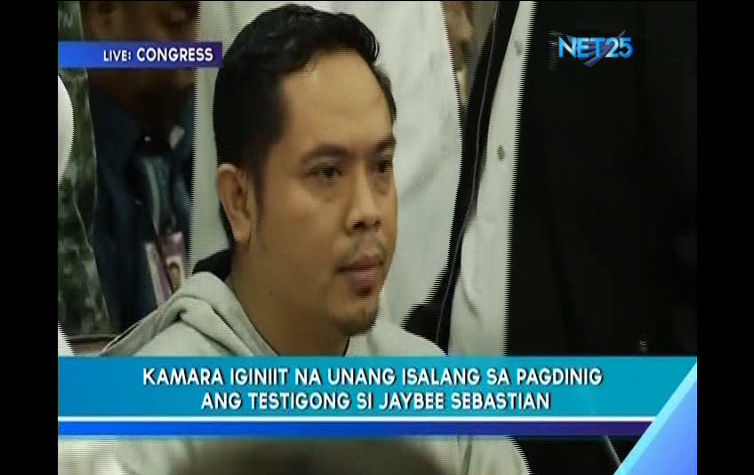 HOUSE OF REPRESENTATIVES, Quezon City (3rd update)–Controversial high-profile inmate Jaybee Sebastian revealed  at today's hearing of the House of Representatives on the alleged illegal drug trade at the New Bilibid Prisons, that he gave millions to the election campaign fund of Senator Leila De Lima when she was still the Secretary of Justice.
In reading his sworn statement, Sebastian said that he came to know De Lima personally through Joenel Sanchez a security aide previously detailed to De Lima. The controversial inmate said that in most times, he gave millions of pesos to De Lima through Sanchez. But Sebastian told the committee of one instance when he personally gave 2 million pesos, placed inside a plastic bag, to De Lima inside the office of former Bureau of Corrections Director Franklin Bucayu. In total, Sebastian said that he gave 10 million pesos of drug money to bankroll De Lima's senatorial campaign.
Sebastian also said that he overheard De Lima and Sanchez calling each other 'sweetie'.
But Sanchez, when asked by the lawmakers about the accusations of Sebastian, denied receiving millions from the high-profile inmate.
"19 years in the service na po ako sa gobyerno, wala po akong record, totoo po ang sinasabi ko", Sanchez said.
The former bodyguard of De Lima also told that he had undergone a polygraph or lie-detector test and this was confirmed by NBI Deputy Director for Intelligence Service when asked by Rep. Rey Umali. The NBI official added that Sanchez passed the polygraph but Umali regarded this as hearsay since the said official was not the one who actually conducted the test.
But as the hearings progressed, a lawmaker was able to clarify with Sanchez that when he underwent the lie-detector test, he was not asked if he received millions of money from Sebastian.
He also revealed that co-inmate Clarence Dongail was the one behind the stabbing incident last Sept. 28, 2016 which led to the death of Tony Co and injuring him together with Peter Co and Vicente Sy. Colangco said that Dongail wanted them dead because of their knowledge of Dongail's connivance with 'ninja cops' in the illegal drugs trade in the NBP. Sebastian said that Dongail's protectors are still serving in government under the current administration which was why he earlier made a statement that he will only reveal his knowledge  regarding the corruption and illegal activities in the NBP to President Duterte.
"Noon pa nagpaplano sa akin yan (Dongail) e, ayaw niya kasi akong humarap dito sa Congress dahil sasabihin ko lahat", Sebastian said.
Asked by Rep. Rodante Marcoleta regarding the credibility of Sebastian's statements, Police Director Benjamin Magalong said "karamihan po ng sinabi ni Sebastian corroborates our findings". (AYP)