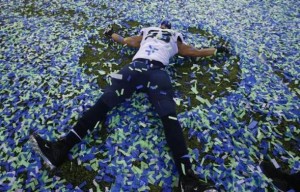 The Seattle Seahawks' ferocious defense shut down the Denver Broncos and record-setting quarterback Peyton Manning in a 43-8 rout on Sunday (February 2) to claim their first Super Bowl title.
Seattle, the NFL's top-ranked defense, turned two interceptions into second-quarter touchdowns for a 22-0 lead at intermission, the second coming on a 69-yard interception return by linebacker Malcolm Smith.
The Seahawks also recovered two fumbles in the lopsided contest that gave them their first Super Bowl crown in their 37 seasons.
The Most Valuable Player award was given to Smith, who also intercepted the last-gasp pass by San Francisco in their NFC title game off a deflection by Richard Sherman.
The comprehensive victory began 12 seconds into the contest with a two-point safety on a bad snap over Manning's head into the end zone on Denver's first play for the quickest Super Bowl tally ever.
After Denver's second half kickoff, Percy Harvin also took 12 seconds to score, racing 87 yards into the end zone to confirm the romp was on in taking Seattle's lead to 29-0.
Second-year quarterback Russell Wilson, leading the second youngest team ever to play in a Super Bowl, took the spotlight from five-time NFL Most Valuable Player Manning by completing 18 of 25 passes for 206 yards, two touchdowns and no interceptions.
Manning, who set NFL records for most touchdown passes and yards passing in a single season, was throttled in the first quarter as Seattle put their stamp on the game by playing Denver receivers tight and registering crunching hits when they did catch the ball.
Seattle outgained Denver 148 yards to 11 in the quarter, and when they stepped up their pass-rush pressure on Manning, rushed him into interceptions that helped the Seahawks break open the game.
With the Broncos desperately far behind, Manning took to the air in a futile attempt to make it a contest, and in the end set a Super Bowl record with 34 completions, while receiver Demaryius Thomas set a record for most receptions with 13.
(Reuters)