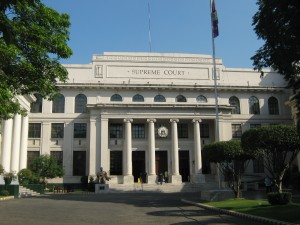 MANILA, Philippines — The Supreme Court has upheld the constitutionality of the controversial online libel under Republic Act 10175 or the Cybercrime Prevention Act.
The high court has ruled that original authors of libelous articles can be penalized, but not those who will post reactions or opinions to the article, or those who will receive such posts under section 4(c)4.
The court, however, partially granted the reliefs sought in the 15 consolidated petitions challenging the constitutionality of the cybercrime law.
In a press briefing, High Court spokesperson Theodore Te said that the court declared as "unconstitutional"  sections 4(c)3 which penalizes the posting of unsolicited commercial communications.  It also declared as unconstitutional the collection or recording of traffic data in real- time under section 12.  Section 19 of the Cybercrime Law which authorizes the Department of Justice to restrict or block access to suspected computer data was also unconstitutional according to the high court.
The court also upheld the constitutionality of imposing penalties on those who will aid the commission of cybercrimes, including those who will attempt any such cybercrime offenses  such as illegal access, illegal interception, data interference, system interference, misuse of devices, cyber squatting, computer-related fraud, computer-related identity theft and cybersex.
But aiding and abetting child pornography, sending and creating unsolicited commercial communications or spam, and online libel as punishable measures under the cybercrime law were declared unconstitutional.  This was because there are already existing penalties for child pornography, and penalizing such crimes under the Cybercrime Protection law would violate "prohibitions against double jeopardy."  (with reports from Juliet Caranguian, Eagle News Service)