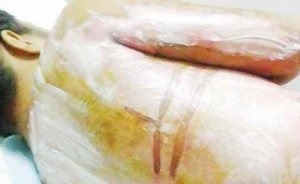 (Reuters)  — Saudi and Philippine authorities are investigating an incident in which a maid from the Philippines was allegedly scalded with water deliberately poured down her back, a Saudi newspaper reported on Thursday.
The case was likely to renew debate on the treatment of some among the hundreds of thousands of mostly Asian domestic workers employed in the Gulf.
Arab News said the investigation was launched jointly by Riyadh police and the Philippine embassy in the Saudi capital after images of burns allegedly suffered by the 23-year-old woman, who had arrived in the kingdom in March, surfaced on social media and online.
Photos posted on the Internet showed severe burn marks under a peeling skin covered with anti-burn ointments.
It was not immediately possible to verify the authenticity of the pictures.
Arab News quoted a relative of the victim as saying the scalding was inflicted by the employer's mother on May 4. It said the incident started when the mother asked the maid for a cup of coffee, but did not elaborate.
Officials from the Riyadh police and the Philippines embassy were not immediately available for comment.
Philippines' Vice President Jejomar Binay is to meet with the family of the Filipina maid on Friday, his office said.
Saudi Arabia in August last year passed landmark legislation aimed at protecting women, children and domestic workers against hidden violence.
The "Protection from Abuse" law was the first of its kind in the ultra-conservative country, which has often faced international criticism for lacking laws that protect women and domestic staff against abuse.
Saudi households are highly dependent on housemaids from African and South Asian countries. In some reported cases maids have attacked the children of their employers after suffering abuse.
Saudi Arabia last year beheaded a young Sri Lankan housemaid after rejecting appeals by her home country to spare her life following a death sentence imposed for the killing of an infant left in her care in 2005.