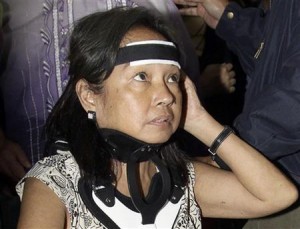 MANILA, Feb. 20 (PNA) — The Sandiganbayan on Thursday said it had dismissed the petition for bail filed by former President and now Pampanga (2nd District) Rep. Gloria Macapagal-Arroyo in connection with the plunder case filed against her.
In the ruling, the Sandiganbayan denied Mrs. Arroyo's motion for reconsideration and the supplemental petition for bail for lack of merit.
In her petition, Mrs. Arroyo argued that she would like to be temporarily released from hospital arrest because of her bone disease and that she had no plans of escaping prosecution.
The former chief executive is facing plunder charges before the Sandiganbayan for her alleged involvement in the misuse of P366 million funds of the Philippine Charity Sweepstakes Office (PCSO).
She is currently under "hospital arrest" at the Veterans Memorial Medical Center (VMMC) in Quezon City.
The crime of plunder is a "non-bailable offense". (source: Philippine News Agency)