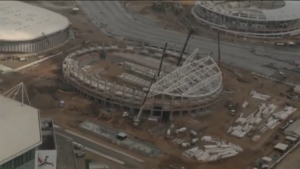 (Reuters) — Rio de Janeiro is up against the clock to finish preparations for the 2016 Olympic Games as the one year countdown begins amidst construction setbacks and the discovery of harmful viruses in the water at one of the main venues.
The first of three phases of test events is already underway.
The test events focus on open-air events for athletes to acclimatise to conditions similar to those of the August Games and is also an opportunity for officials to trial run venues.
Held in Maracanazinho, or "little Maracana", stadium, the recent volleyball test event was hailed a success, but whilst the Maracanazinho has been in action since 1954, many of the new Olympic venues remain skeleton structures.
A Reuters report in April showed that companies had not yet been selected to build at least half of the eight temporary venues set to host events like beach volleyball and rugby.
Although these structures are designed to be put together relatively quickly, industry experts say long-term planning is vital to ensure the custom-designed and made venues are safe and offer world class field of play.
Progress is further stunted by Brazil's largest-ever corruption scandal which involves construction companies responsible for some $12 billion-worth of Olympic projects.
Prosecutors investigating the scandal at state-run oil firm Petrobras have implicated more than 20 companies, including five that are working on Olympics venues and infrastructure.
The investigation, dubbed "Operation Car Wash," has pushed the companies into a tight spot as their credit lines dry up and top executives are in jail awaiting trial.
Scrambling to limit the fallout, Rio's city government is at times being forced to act like a bank, lending companies money to prevent a slowdown in construction, a senior city government source told Reuters.
Olympic officials say the scandal has not yet resulted in delays, but it is complicating an already massive construction challenge as Rio attempts a scale of urban regeneration not seen for an Olympic Games since Barcelona 1992.
Executive Secretary of Coordination for the Rio de Janeiro Government Pedro Paulo denied on Wednesday (July 29) that works were running behind time.
"These are the final 365 days, we are now counting down day by day. The Rio Olympics are going to be a success, all works are up to date. All works that were delayed are now back on track. Some stadiums are 90 to 95 percent complete," said Garcia.
The same report found that whilst by February 2011, 79 percent of venues and connected infrastructure in London were complete. In Rio, one month prior to that same point, 25 percent of Olympic projects did not yet have a fixed timeframe or cost estimate.
And with one year to go, the city looks like a giant building site with firms working on an extended metro, light railway, re-built port area, new highways and dozens of venues.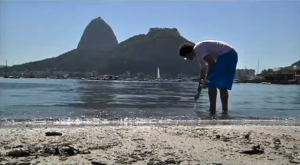 Debate over the polluted Guanabara Bay further deepened as privately commissioned tests of the water quality, where rowers, sailors and open water swimmers will be competing, revealed this week a high level of disease-causing viruses.
The International Olympic Committee reacted by reiterating that the health and welfare of athletes was its top priority. The IOC said it was in constant talks with organisers about how to ensure the waters were clean enough for competition.
City authorities have already admitted that they will fail to make good on promises made in the Olympics bid to improve the sewage system and reduce water pollution by 80 percent in the Guanabara Bay which is littered with tires, sofas, old televisions and plastic detritus.
Paulo said on Thursday that conditions would be suitable for the Games, but admitted that a failure to clean the waters would affect the city beyond the sporting event.
"For the Olympic Games, the conditions of the Guanabara Bay and Rodrigo de Freitas Lagoon will be one hundred percent within the guidelines for sporting practice. There is no concern in this respect. The issue relating to the Guanabara Bay is one that concerns the city of Rio de Janeiro, for the legacy, for its future. This programme (cleaning of the bay) did indeed suffer setbacks and delays. Here in the city government we are fulfilling our role," said Paulo.
So far the level of criticism of preparations for the Olympics has been less than the wave of protests and negative press that marked the run-up to the soccer World Cup in Brazil last year. That tournament was in the end hailed as a success.
Thursday also saw the organizing committee announce it would continue the tradition of the previous two Games by using movie directors as the artistic directors for the opening ceremony. These include Fernando Meirelles, the famous director of the film City of God.