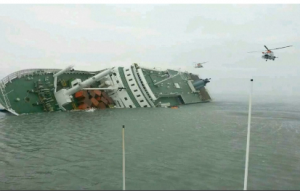 (Reuters) — A clearer picture has started to emerge of the situation when a South Korean ferry capsized with the release on Sunday (April 20) of a radio conversation between controllers and the ship.
Witnesses have said the "Sewol" turned sharply before it began listing. It is still not clear why the vessel turned. It took more than two hours for it to capsize but passengers were ordered to stay put in the cabins.
In the audio file and transcript of the radio communication made public by the coast guard, the crew were worried about the number of life boats.
"Since we don't know situations there, you, the captain, should make the final decision on whether or not to evacuate the passengers," the vessel controller said to the captain, in the radio communication at 9.25 a.m.
"No. I asked if the passengers can be rescued immediately once they evacuate now," replied someone on the bridge of the ferry, according the radio communication.
Captain lee Joon-seok, 69, was not on the bridge when the ship turned. Navigation was in the hands of a 26-year-old third mate who was in charge for the first time in the passage, according to crew members.
Witnesses said the captain and some crew members took to rescue boats before the passengers. Lee said earlier he feared the passengers would be swept away by the strong currents if they jumped into the sea, but he has not explained why he left the ferry.
More than 58 people are now known to have died and 252, mostly children, an presumed dead.