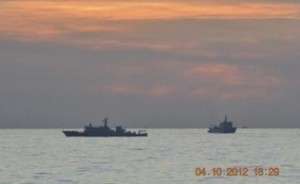 By Michaela Del Callar
MANILA, Feb. 25 (PNA) -– The Philippines on Tuesday strongly protested several cases of harassment allegedly committed by Chinese authorities on Filipino fishermen in the Scarborough Shoal off Manila's northwestern coast, including last month's water cannon assault on two Philippine fishing vessels in the area.
Foreign Affairs acting Assistant Secretary Bernadette Catalla summoned Chinese Embassy Charge d'Affaires Sun Xiangyang to receive Manila's diplomatic note indicating the government's "vehement protest" over China's attempts to drive Filipino fishermen away from the Scarborough Shoal — a rich fishing ground that lies off the Philippine's northwestern coast.
Since last year, the Philippines recorded nine incidents of harassment against Filipino fishermen at the shoal. The worst attack was when a Chinese maritime surveillance vessel fired water cannons on two Filipino fishing vessels within the shoal's vicinity in Jan. 27, 2014.
"The department strongly protests the acts of harassment and the manner by which there were committed by China to forcefully drive away Philippine fishing vessels from Bajo de Masinloc," Foreign Affairs spokesman Raul Hernandez, referring to Scarborough shoal's local name, told a press conference.
China has rejected Manila's protest, saying it has "indisputable sovereignty over South China Sea islands and their adjacent waters" including the Scarborough Shoal.
"Chinese government vessels are conducting regular patrols within China's jurisdiction. The Chinese side does not accept the so-called "protest" by the Philippine side," embassy spokesman Zhang Hua said in a statement.
"We urge the Philippine side to work with the Chinese side to resolve differences through bilateral consultations and negotiations, she added."
Scarborough, located 124 nautical miles from Masinloc town in Zambales and 472 nautical miles from China's nearest coastal province of Hainan, is called Panatag or Bajo de Masinloc by the Philippines and referred to as Huangyan in Chinese.
China took control of the shoal in 2012 following a maritime standoff with Philippine authorities.
"The department vehemently protests the act of China when its law enforcement vessels drove away Philippine fishing vessels seeking shelter in the Philippines' Bajo de Masinloc during inclement weather," Hernandez said.
Hernandez maintained the shoal, a U-shaped rock formation with a sprawling lagoon teeming with rich maritime resources, "is an integral part of the Philippines.
The Philippines, he added, "exercises sovereignty, sovereign rights and jurisdiction" over it and that "Philippine fishing vessels have been routinely, continuously, and peacefully and sustainably fishing" in the area.
Both countries figured in a dangerous standoff in the area in April 2012 but ended after nearly three months when President Benigno Aquino III ordered Philippine vessels facing off with Chinese ships to withdraw due to bad weather.
China never left the area and even roped off the entrance to the shoal to prevent Filipino fishermen access and shelter to its vast lagoon.
Armed Forces Chief Gen. Emmanuel Bautista earlier told foreign correspondents in Manila that Chinese vessels attacked Filipino fishermen with water cannons last month in Scarborough Shoal.
"The Chinese vessels continuously blew its horn and doused the Philippine vessels with water cannons for several minutes," Hernandez said, adding at the time of the incident, there were 14 other Philippine fishing vessels in the area.
Hernandez explained it took some time for the Philippine government to file a protest because it had to "collect more details and information before making the decision on what course of action we have to undertake in this issue."
Apart from the water canon assault, Hernandez said the DFA received nine similar reports of harassment against Filipino fishermen by Chinese civilian maritime law enforcement agency (CMLEA) vessels last year.
Hernandez said fishermen seeking shelter from the storm were driven away by the Chinese from the area.
Defying China, Hernandez said the Philippine government will not prevent Filipino fishermen from going to the shoal.
"Our fishermen have the right to pursue their livelihood in Bajo de Masinloc which is an integral part of the Philippine territory over which the Philippines exercises sovereignty, sovereign right and jurisdiction," Hernandez said.
Saying it has indisputable sovereignty over the waters, China claims a huge swath of the South China Sea even as it overlaps with the territory of its neighbors like the Philippines.
The Philippine government has adopted the name West Philippine Sea for parts of the South China Sea that falls within its exclusive economic zone.
Other claimants to the sea — a strategic waterway where a bulk of the world's trade pass and said to be sitting atop vast oil and natural gas resources — are Vietnam, Malaysia, Brunei and Taiwan.
Overlapping claims could lead to military conflict in the region if left unresolved, analysts warned.
Last year, the Philippines filed a case against China before a United Nations-linked tribunal to try to declare illegal its massive claim contained in its so-called nine-dash line map.
China rejected Manila's case, saying the case is groundless and lacks legal merit. (source: Philippine News Agency)