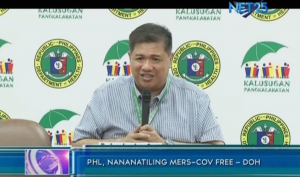 MANILA, Sept. 5 (PNA) — The Department of Health (DOH) on Friday said that they can now safely say that the Philippines is really free from the Middle East Respiratory Syndrome Coronavirus (MERS-Cov) after all.
DOH spokesperson Dr. Lyndon Lee Suy said they have officially received confirmation from authorities in Saudi Arabia that the 37-year-old nurse from General Santos City, who was earlier reported positive of contracting the virus, has turned out negative in the official test results in the kingdom.
With this development, Lee Suy said they will now cease contact tracing of other passengers of the flights which the nurse took when she went back to the Philippines last August 29 and when she went home to General Santos City last September 2.
"What is good is when there is negative case, there is no way for the infection to be transmitted and implication is that all our activities of contact tracing — looking for the same flight of the two returning nurses from Saudi Arabia — will be terminated. It means it is over," he said.
Lee Suy said that the nurse is already discharged from the Southern Medical Center in Davao City, after also yielding negative of MERS-CoV from test results at the Research Institute for Tropical Medicine (RITM).
"We can safely say, as of now, that the Philippines remains to be MERS-Cov free," he said.
Lee Suy said there was some kind of "miscommunication" on earlier reports that the nurse yielded positive from MERS-Cov testing before she and another nurse returned home, calling it part of "rumor surveillance."
According to the Australia-based Centers for Disease Control and Prevention, rumor surveillance has previously facilitated rapid response, more rigorous follow up, and public preparedness during public health emergencies and other event outbreaks, such as the avian influenza H5N1 outbreak in 2004, Chernobyl nuclear accident in 1986 as well as the outbreak of Ebola in Uganda in 2000.
Earlier, the DOH reported that two Filipina nurses arrived in the country last August 29 from Damman, Saudi Arabia, alerting that one of them who had previous contact with a MERS-Cov patient in a hospital where they are working turned out positive of MERS-Cov.
Health Secretary Enrique Ona immediately urged Filipino workers in the Middle East to have themselves tested and to wait for the results before coming home to the Philippines.(Philippine News Agency)