QUEZON City, Philippines (Eagle News)  – The Commission on Population said that from formerly being ranked at the 12th place, the Philippines is now down one rung, sliding to the 13th place in the list of countries with the largest population in the world.
The Philippines is listed as having 103,796,832 or an estimated 103.8 million people.
"On July 1, 2017, Ethiopia overtook our spot, making the Philippines the 13th largest country in the world," POPCOM Executive Director Dr. Juan Antonio Perez III said on Thursday, July 27.
Ethiopia is listed as having 104,344,901 people.
This means good news for the country since being down in the population list, meant other countries are more populated than the Philippines, Perez explained.
But the Philippines has more density at 348 people per square kilomter, compared to Ethiopia's 104 people per square kilomter, according to the Worldometer page which lists the countries in the world by population.
Perez said that the country had been on the 12th spot for the last three years.
"This event is a challenge to provide a quality life for the babies and make every Filipino count in the progress and development of the country as the population increases rapidly every year," said the official.
"It is also a reiteration of POPCOM's advocacy through the years that every child should be born wanted, and his/her basic rights on social services, such as health and education, are ensured for his/her total development," he added.
The official also added that the country may continue to go down in the list as other countries have faster population growth rate compared to the Philippines.
China is the most populated country on earth with a listed population size of 1,388,282,693 or almost 1.4 billion people.  It is followed by (2nd) India with 1,342,512,706 people; (3rd) US with 326.47 million; (4th) Indonesia with 263.5 million; (5th) Brazil with 211.24 million; (6) Pakistan with 196.74 million; (7th)Nigeria with 191.83 million; (8th) Bangladesh with around 164.83 million; (9th) Russia with around 143.38 million; (10th) Mexico with 130.22 million people; (11th) Japan with 126 million; (12th) Ethiopia with 104.34 million; and (13th) Philippines with around 103.8 million people.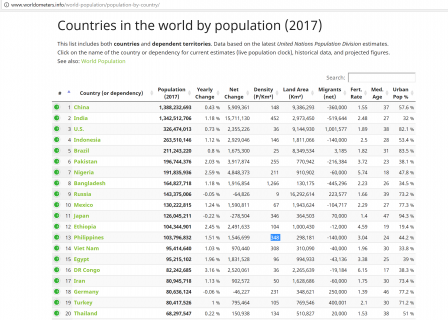 The least populated country is Tokelau, an island country in the southern Pacific Ocean that consists of three tropical coral atolls (from the northwest, Atafu, Nukunonu and Fakaofo), with a combined land area of 10 km2 (4 sq miles). It has a population of approximately 1,300 people. It is ranked 232 in the Worldometer page.
The data of the population size this year is based on the latest United Nations Population Division estimates.