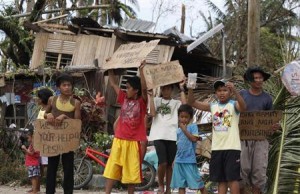 MANILA, April 5 (PNA) — Malacanang on Saturday welcomed the US government's enactment of the Philippine Charitable Giving Assistance Act, a law intended to urge donations for victims of typhoon "Yolanda".
The law allows American taxpayers to continue making tax-deductible donations to Yolanda victims until April 15 this year.
US Congressman Eric Swalwell (D-CA) was first to introduce the bill, which was co-sponsored by 35 congressmen made up of 26 Democrats and nine Republicans.
It was later sponsored by Senators Mazie Hirono (D-HI), Dean Heller (R-NV), Harry Reid (D-NV) and Robert Menendez (D-NJ).
The US House of Representatives unanimously passed HR 771 on 24 March 2014 and approved by Senate on 25 March 2014.
The Senate passed its version (S 1821) March 6 this year while President Barack Obama signed the bill into law on the evening of March 25 this year.
Deputy presidential spokesperson Abigail Valte in an interview on state-run dzRB Radyo ng Bayan said that its enactment would lead to more continuous assistance from US donors.
"Maganda naman po 'to at mabibigyan din ng incentive yung mga donors sa America para ipatuloy ang tulong sa Yolanda stricken areas," Valte said.
("This is good because donors in America will also be given the incentive to continuously provide help in Yolanda-stricken areas," Valte said.) (Philippine News Agency)