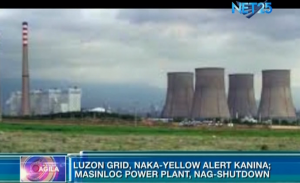 MANILA, April 15 (ENS) — The Department of Energy has placed the island of Luzon under "yellow alert" because of the unexpected shutdown of Masinloc power plant due to a boiler tube leak, and the extended shutdown of the Pagbilao power plant.
According to Director Mylene Capungcol of the DOE, the leak in the boiler tube of the plant in Masinloc was so critical that the plant would not be able to produce electricity because of this.
In an interview with Agila Balita (Eagle News), Capungcol said the boiler had to cool off before it could be repaired.
The "yellow alert" on the Luzon power grid was declared 11 a.m. Tuesday.   A yellow alert means the power reserve is less than 600 megawatts.
The Masinloc Unit II has a capacity of 382 megawatts (MW).  The Pagbilao plant on the other hand has a generating capacity of 300 megawatts.
The peak demand for the day in the Luzon grid is 7,885 MW in capacity as against 7,430 MW demand, which translates to roughly 450 MW in reserve, according to the National Grid Corporation of the Philippines or NGCP.
It would take two to three days before the leak in the Masinloc power plant could be fully repaired, according to the DOE.
But still, the DOE is  hoping that the estimated two to three days of repair work on the Masinloc plant ccould be shortened.
Meanwhile, Malacanang also announced Tuesday that the power supply for the whole of Luzon would be on yellow alert even on Wednesday, April 16.
Presidential Communications Operations Office (PCOO) Secretary Herminio Coloma Jr. told reporters that this is what Energy Undersecretary Raul Aguilos informed him through a text message Tuesday afternoon.
"Per latest information, the Masinloc Unit 2 went offline again and Pagbilao Power Plant is on extended shutdown today," said Aguilos in a text message to Coloma Tuesday.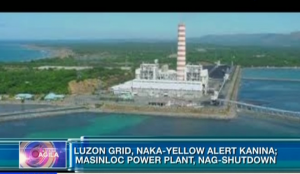 In the same text message, Aguilos told Coloma that the situation will normalize on Thursday.
"With the gas restriction of Malampaya Plant starting 6AM, Wednesday we might be on yellow alert but we expect normalization by Thursday," quoting Aguilos's text message.
The energy department has already called on the public to save or conserve electricity, especially during the peak hours while the Masinloc plant is undergoing repair.  This is to avoid government resorting to rotational black-out.
The peak hours where the public is enjoined to save electricity are during these time frames: 11 a.m. to 2 pm. in the daytime, and 7 p.m. until 8 p.m.in the evening.
(Eagle News Service with a report from the Philippine News Agency)