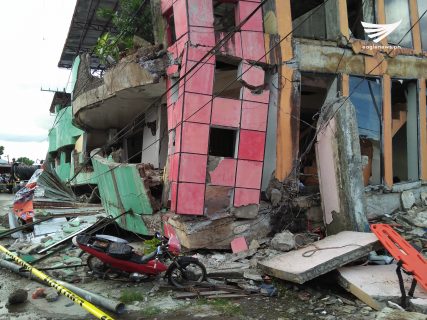 At least two were reported killed and several others injured after a 6.5-magnitude earthquake jolted Leyte and was felt in nearby provinces on Thursday.
The first fatality was a man who died following the collapse of a 10-year-old commercial building when the quake struck at 4:03 p.m., Kananga Mayor  Rowena Codilla said in a radio interview.
The Philippine Institute of Volcanology and Seismology said the earthquake–with its epicenter in Jaro–was felt at varying intensities in nearby provinces such as Cebu, Negros Occidental, Bohol and Northern Samar.
The quake hit at a depth of around six kilometers (four miles), the United States Geological Survey said.
There was no immediate warning of a tsunami, the Pacific Tsunami Warning Center said.
According to Codilla, another woman had been injured in Kananga, although it was unclear if she had been a victim of the collapsed three-storey building that housed a small hotel upstairs and shops on the ground floor.
"At sa ngayon ay nirerescue pa (some of those affected by the strong earthquake)," she said, adding that aftershocks were still being felt.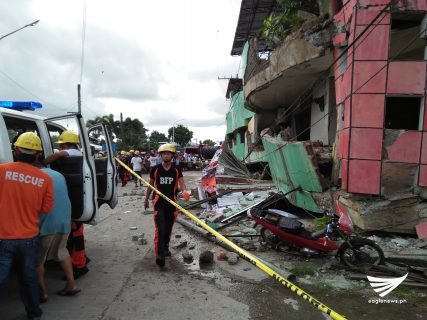 Kananga Vice Mayor Elmer Codilla said at least five more people were trapped inside the collapsed commercial building near the quake's epicenter.
"There are still more people inside, maybe more than five. The rescue operation is ongoing," he added.
Two of those trapped managed to send text messages seeking help, the vice mayor said, noting that six people have been rescued without injuries.
Dominico Petilla, the governor of Leyte province, said rescue personnel, ambulances and heavy equipment have been sent to the mountainous town of about 50,000 people.
Roy Ribo, an official with a farmers' organization who was visiting Kananga, told AFP the commercial building was heavily damaged and "ready to collapse" when he passed by shortly after the quake.
"I took a quick picture but it was bound to crumble," said Ribo, who added he immediately fled the area, driving through paved roads that were cracked by the quake.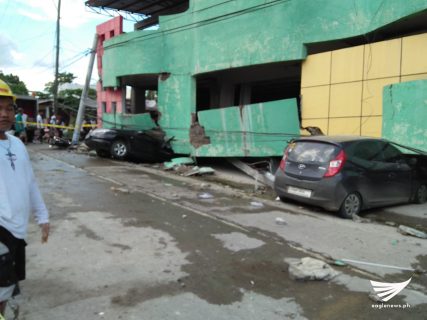 He said the tremor struck while he was meeting local officials outside a power plant on the outskirts of Kananga.
"It normally emits white smoke but after the quake, it emitted dark smoke," Ribo added.
Teachers herded panicked grade school students out of the classrooms at the Rizal National High School near the power plant, he said.
"Many children were hysterical. They were frantic, crying," he added.
Another dead in Ormoc
The second fatality was recorded in Ormoc, Leyte's other main city.
Mayor Richard Gomez said in a television interview that one 18-year-old woman was found dead under the rubble after her house was destroyed by a landslide caused by the earthquake.
"We were able to save her 5-month-old baby," he said.
He said more than 100 had to be rushed to the hospital, but some have already been discharged.
Tacloban Mayor Cristina Romualdez Gonzales said so far, there were no reports of fatalities in the city, which was the hardest-hit by Super Typhoon Haiyan in November 2013.
Huge tsunami-like waves smashed the city then and nearby areas, leaving 7,350 people dead or missing.
Gonzales said there were also no reports so far about collapsed buildings.
Both Ormoc and Tacloban were without power, along with large sections of Leyte island.
Senator Richard Gordon, also the Philippine Red Cross chair, said there was no electricity in Pastrana, while there was a "total blackout" in San Vicente.
"Back to normal" in Cebu
In nearby Cebu province, Vice Governor Agnes Magpale said that everything was "back to normal."
Gordon said a woman in the province, in Mandaue in particular, had sustained minor injuries.
Malacanang later in the day issued a statement calling for calm and asking the public to "remain alert" for aftershocks.
The Palace also gave the assurance those who needed it would be given "immediate assistance."
In February, a 6.5-magnitude quake killed eight people and left more than 250 injured outside the southern city of Surigao.
The following month a 5.9-magnitude tremor killed one person there in March.
Before the Surigao quakes, the last fatal earthquake to hit the country was a 7.1-magnitude tremor that left more than 220 people dead and destroyed historic structures when it struck the central islands in October 2013.
The Philippines lies on the so-called Ring of Fire, a vast Pacific Ocean region where many quakes and volcanic eruptions occur. (Eagle News Service, Agence France Presse)