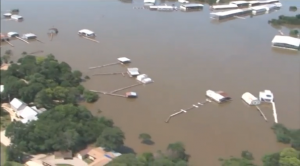 (Reuters) — High water levels caused damage near Lake Texoma in Bryan County, Oklahoma on Wednesday (May 27).
Water rose past 640 feet (195km) and is now covering Cartwright bridge, according to reports. The bridge was rebuilt following a flood in 2007 and local media reports that officials said it wasn't supposed to flood again. .
The high water levels come as torrential rains battered Oklahoma and Texas, where at least 15 people have been killed in weather-related incidents this week, including six in Houston.
People were told to stay away from more than 200 homes in Parker County, Texas where the Brazos River was poised to overflow its banks about 30 miles (50 km) west of Fort Worth on Wednesday night, county officials said.
The death toll in Texas was expected to rise, with about a dozen people still missing and more thunderstorms pelting the already flooded cities of Houston and Austin.
In Hays County alone, nine people were missing after flood waters on Monday (May 25) swept away homes from their foundations. Three people in the county, about 30 miles (50 km) southwest of Austin, were already confirmed dead.
Floods damaged about 4,000 structures and snarled transport in Houston, the fourth most-populous U.S. city, where more than a thousand vehicles were trapped in rising water.
The National Weather Service issued flash flood watches for parts of North Texas and large sections of Oklahoma.
Near Dallas, police evacuated people living near a dam that had threatened to burst and told people to move livestock to higher ground.
About 11 inches (28 cm) of rain fell in Houston on Monday, whilst parts of Austin were hit by as much as seven inches (18 cm).
There was no damage estimate available for Texas, which has a US1.4 trillion dollar-a-year economy and is the country's main domestic source of energy.