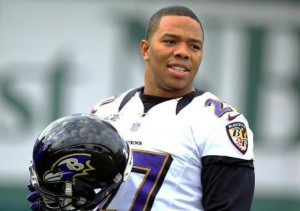 (Reuters) – The National Football League's Ray Rice, a Pro Bowl running back, was indicted on Thursday on a charge of aggravated assault after his arrest last month for fighting with his fiancée in an Atlantic City casino, the county prosecutor's office said.
Police arrested Rice, who plays for the Baltimore Ravens and is known for his anti-bullying advocacy, and his fiancée, Janay Palmer, shortly before 3 a.m. on February 15 at the Revel Casino and Hotel, charging them both with simple assault.
Surveillance tape showed them hitting each other in the casino elevator, police said.
The charge against Palmer, 26, has been dropped, the Atlantic County, New Jersey, prosecutor said.
A grand jury in state superior court indicted Rice, 27, with the more serious charge of aggravated assault on Thursday, court documents show, which carries a sentence of three to five years in prison.
Rice, who lives in the Baltimore, Maryland, suburb of Reistertown, his lawyer and Palmer could not immediately be reached for comment.
The Ravens released a statement on its website supporting Rice.
"This is part of the due process for Ray," the statement said. "We know there is more to Ray Rice than this one incident."
A three-time Pro Bowl player, Rice signed a five-year, $35 million contract with the Ravens in 2012 and helped Baltimore to a Super Bowl victory over the San Francisco 49ers at the end of that season.