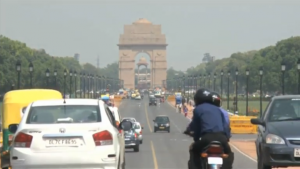 MAY 27 (Reuters) — A scorching heat wave sweeping India has now killed nearly 800 people, with most of the victims in the southern states of Andhra Pradesh and Telangana.
People are doing all they can to cope with the sweltering heat as temperatures soar to near 50 degrees Celsius in some places.
The most severely affected states – Andhra Pradesh and Telangana – have witnessed 333 and more than 200 people die respectively, according to an official statement.
The government has announced that compensation of 1,500 U.S. dollars will be given to the families of the deceased.
The Indian weather department has issued a red alert for these two states and has forecast that the heat wave will continue.
"Continuous lack of thunderstorm activity for the last 10 days is also contributing to the increase in temperature over northwest and central India. Also, there is a heat transported from the western side," said BP Yadav, director of the Indian Meteorological Department.
Most of the deaths in rural southern India have been caused by extreme dehydration and heat strokes.
Meanwhile, temperatures have also been soaring in New Delhi, putting a massive burden on power infrastructure.
The high demand for electricity is outstripping the supply and causing power cuts that are exacerbating the situation. Almost all of India has been witnessing power cuts lasting for hours on end.
Though the intense heat is affecting everyone, the most vulnerable are homeless people and construction workers who work under the scorching sun.
At one homeless shelter in the Indian capital, the 360 people who live there have been sleeping outside because indoors it is like living in a furnace. As temperatures touch 46 degree Celsius in Delhi, inside the shelter it is at least five degrees hotter.
There have been nearly 200 deaths in northern India and 80 percent of the victims were homeless.
The heat wave has exposed India's lack of basic infrastructure. One-third of India's 1.2 billion populations still does not have access to power and water is also short in supply.
The Delhi government says it has already halved the price of electricity and made water free, but that upgrading the related infrastructure is a long-term challenge.
"There are other long-term fundamental problems with the electricity and the water of Delhi that cannot be solved in three months time. It will take time," said Ashutosh, a spokesperson for the Delhi government.