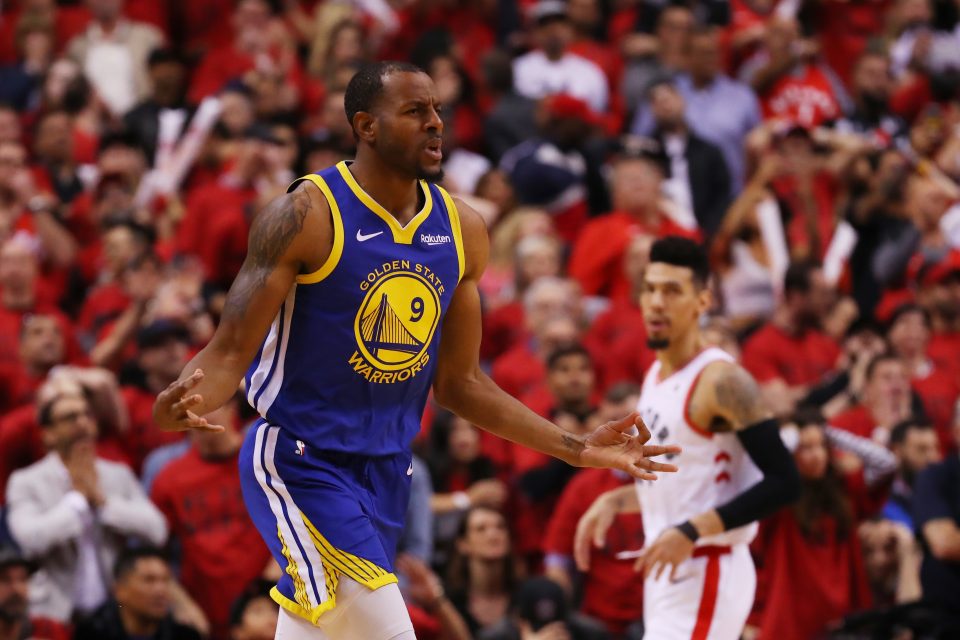 By Tennie Sumague
EBC New York Bureau
TORONTO (Eagle News) – The Golden State Warriors mantra, "Strength in Numbers" took effect during their third quarter rampage, which helped even their series against the Toronto Raptors with a 109-104 win at Scotiabank Arena Sunday night.
Up by five to open the second half, the Raptors offensive struggles began, missing eight straight shots, compiled with five turnovers, and the Warriors soared to an 18-0 run. The double-digit deficit proved to be too much for the Raptors to dig out of in the fourth, despite going on a 10-0 run and getting within a bucket after Danny Green hit a three-pointer with 26.9 seconds left in the game.
Andre Iguodala's clutch open three-point jump shot sealed the victory for the Warriors as the Raptors' defense scrambled to double team Stephen Curry with seven seconds left in regulation.
"Anytime Andre can make a couple three's it's huge for us and loosens up the game," Warriors Head Coach Steve Kerr said.  "I thought his play in the second half was really inspiring at both ends.  He did a fantastic job.  He's hit lots of big shots in the Finals before, so he was unfazed."
Klay Thompson led the way for the Warriors with 25 points, but landed awkwardly in the fourth quarter, and left the game with a sore hamstring.  Curry added 23 points despite feeling dehydrated and lightheaded. Draymond Green was one assist shy from another triple-double performance, finishing with 17 points, 10 rebounds and 9 assists.
"[That third quarter] pretty much won us the game because we established our defensive presence, we got stops and everybody got involved in the offensive end," said Curry.  "And when you come to the timeout after a couple runs like that and everybody's involved, whether they're soaring or setting screens or making the assist, everybody feels good and the vibe is just solid, and we know that we have taken control of the momentum and then it's just about sustaining it down the stretch."
Coming off a quad injury and playing in his first NBA finals in his nine seasons, DeMarcus Cousins started for the Warriors and pulled through with 11 points. Despite going through two catastrophic injuries, 'Boogie' was not going to take for granted being in basketball's greatest stage.
"It feels great," said Cousins "I've leaned on my teammates throughout this moment and throughout this whole process and this was an incredible moment for me.  I want to be on this stage.  This is what I've worked for my entire career, to be on this stage, to have the opportunity to play for something. So I put the work in and the time in and, with God's grace, I'm able to be out here and play the game that I love."
Kawhi Leonard had an outstanding performance with 34 points and 14 rebounds and Fred VanVleet came off the bench and contributed 17 points for the Raptors.
Leonard broke down his team's defensive struggles in the third and praised the Warriors basketball IQ despite their lingering injuries.
"I feel like in that third quarter, we didn't score the ball in the first five, four and a half minutes, obviously led to them getting out in transition early and a lot of layups and open looks," said Leonard. "That was pretty much the game right there.  Went on a 15, 18-0 run, I believe, and [we] can't do that with a championship team on the other side. These guys have a high basketball IQ.  Obviously them missing Durant it's a big loss for them, but they won the game tonight."
The series shifts over to Oracle Arena in Oakland as Game 3 is set for Wednesday.
(Eagle News Service)