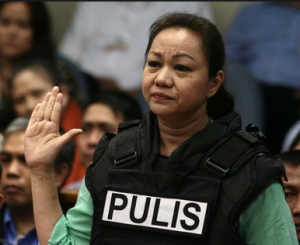 MANILA, Philippines — The camp of Janet Lim Napoles is set to bring to the Court of Appeals her bail petition which had been denied by the Makati regional trial court.
Napoles' camp said they will be filing their appeal within 60 days.  In fact, her lawyer, Alfredo Villamor, wants the petition to be filed as soon as possible.
Napoles' brother Reynald Lim is still at large.
Last February 12, the Makati Regional  Trial Court branch 150, through Judge Elmo Alameda, had denied the motion for reconsideration filed by Napoles on her bail petition for lack of merit.
Alameda said that the arguments submitted by Napoles at that time were "self-serving and not supported by strong evidence" that would merit the grant of bail.
The court first denied Napoles' bail petition in November 2013.
The next hearing will be on March 18 and 25.
Meanwhile, Prosecutor Christopher Garvida is asking the court to issue a subpoena against a Metrobank representative in connection with certain bank accounts.