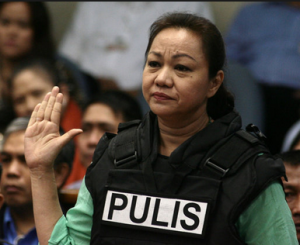 The Ospital ng Makati said it would not give any special treatment to Janet Lim-Napoles.
The businesswoman who was accused of engineering the pork barrel scam was admitted late Monday night at the hospital where she will be undergoing surgery for myoma.
Napoles arrived at the Ospital ng Makati at 10:19 p.m., Monday, March 31.  She was not handcuffed.
During a press conference Tuesday, April 1, Dr. Ismael Peralta said that hospital personnel are treating Napoles like any other patient confined at the said hospital.  He assured that she would not be given any VIP treatment.
He said that the room of the hospital where Napoles is staying was "very basic" with only a single bed, toilet and bath.
Makati police chief, Senior Superintendent Manuel Lukban said Napoles will need to undergo several tests three days before her surgery.
On Friday, Makati City Regional Trial Court Branch 150 Judge Elmo Alameda allowed Napoles' motion to undergo surgery and hospital confinement.
However, he rejected her request to be admitted to St. Luke's Medical Center in Taguig City.
Napoles has been complaining of severe abdominal pains and profuse menstrual bleeding due to the 6-centimeter myoma that has doubled the size of her uterus.
Napoles will shoulder all her medical bills and other expenses.
Peralta said that that there is no dedicated nurse assigned to Napoles.
Peralta added that the entrances and exits of the building are being manned by hospital guards. (with a report from the Philippine News Agency)