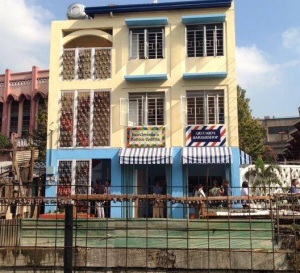 MANILA, Feb. 19 (PNA) — Department of Social Welfare and Development (DSWD) Secretary Corazon J. Soliman joined President Benigno S. Aquino III in the inauguration Wednesday morning of the first Medium-Rise Building (MRB) for informal settlers in Estero de San Miguel in Barangay 412, Legarda, Sampaloc, Manila.
According to Secretary Soliman, the MRB is part of the national government's continuing initiatives to provide safe, decent and affordable houses for informal settler families (ISFs) living near "esteros" or waterways as "humane relocation system."
Soliman said the project is quite historical for it will serve as a model unit for all the other MRBs proposed to be built along the esteros in Manila.
"This project will ensure that the people living in esteros who will be transferred to the MRBs will also cooperate in maintaining the cleanliness of their communities and thus help in preventing clogging of running waters in areas where they are residing," Soliman explained.
She said that the model MRB unit took almost two years to finish.
"The construction started in November 2013 and it was completed early this January 2014," she added.
The DSWF chief also said that the model structure, built on a 24-square meter lot, has a ground floor, first and second floors.
Each floor has one room which measures about 18 square meters and has a kitchen and comfort room for the family that will occupy it.
The ground floor is the area that will serve as the ISF's source of livelihood where the family can put up a small store or engage in productive activities to earn income.
The model unit was designed and constructed by Architect Albert Zembrano who ensures that it has earthquake- and flood-resilient features.
As of now, according to DSWD, the amortization of each ISF that will be transferred to the other units that will soon begin construction is still being determined by the Social Housing Finance Corporation (SHFC).
However, according to Barangay Chairwoman Filomena Cinco of Brgy. 412, who is also president of the Nagkakaisang Mamamayan ng Legarda and one of those who pursued for the negotiation and completion of the project, they are expecting that the said units will be paid according to brackets of earnings or living conditions of the ISFs.
"Most probably the poorest ISFs will be paying an estimated P300 to P500 or a little bit higher every month for a period of 25 years once they start occupying the other units that will be built within this year," Cinco said.
She also said she is very thankful to the DSWD, Department of Interior and Local Government (DILG) led by Secretary Manuel A. Roxas II and to the leadership of President Aquino for the realization of their long-cherished dream of having decent housing units within the city where they have resided for so long.
"We are very grateful to the government. We feel great that they have listened to our long-time appeal for a decent housing unit which will not relocate us to areas that are far from where we are getting our source of livelihood," Cinco tearfully said during the turnover ceremony held at the Claro M. Recto High School Gymnasium in Sampaloc.
President Aquino, who was the guest of honor and speaker in the ceremony, reiterated his administration's goal to leave a legacy of providing solutions for the problems being faced by the poor, like accessible relocation sites.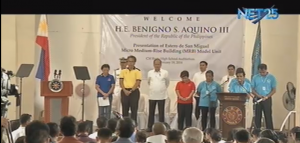 The President said that the other MRBs that will be constructed soon for the ISFs aim to uplift their living conditions by helping them acquire affordable housing units within the city, which is not only accessible to their places of work but also to basic services like schools, hospitals and transportation facilities.
About 105 ISFs are targeted to be relocated in Brgy. 412 once the other MRBs are completed.
Similar MRBs are proposed to be put up for ISFs in other parts of Metro Manila as a solution to squatting problems along esteros or water zones where the lives of residents are always endangered during typhoons or heavy rains. (source: Philippine News Agency)