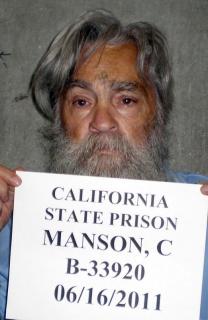 (Reuters) – Mass murderer Charles Manson has been granted a marriage license, and would be allowed to wed in prison, a spokeswoman for the California Department of Corrections and Rehabilitation said on Monday.
Manson, 80, was issued a marriage license by Kings County, California, where he is serving a life sentence at the California State Prison, Corcoran, corrections spokeswoman Terry Thornton said.
Manson, a charismatic ex-convict who assembled a group of runaways and outcasts into a "family" in the late 1960s, directed his mostly young, female followers to murder seven people, including actress Sharon Tate, in 1969 in what prosecutors said was part of a plan to incite a race war.
He was also convicted in the murder of an acquaintance, Gary Hinman.
California state law allows inmates to marry in ceremonies that are usually held in the visiting room of the prison where they are housed, Thornton said.
But if Manson does marry, he would not be allowed so-called family visits, California's term for extended overnight stays typically called conjugal visits by other states, she said.
Manson is ineligible for the family visits because he has not been granted a parole date, Thornton said.
Manson has been repeatedly denied parole in California. His last parole hearing, which he did not attend, was held in 2012. His next is set for 2027, Thornton said.
Thornton did not identify the woman named on the marriage license along with Manson.