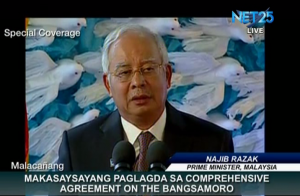 By Azer N. Parrocha
MANILA, March 27 (PNA) — Malaysian Prime Minister Najib Razak on Thursday assured Philippine President Benigno S. Aquino III that Malaysia would remain a partner for peace and development as long as it is needed.
"Two years ago, I promised President Aquino that Malaysia will continue to assist with development," Razak said in his speech during the signing ceremony of the Comprehensive Agreement on the Bangsamoro (CAB) held in Malacanang.
"This promise stands for as long as it is needed. Malaysia remains a partner for peace and for development," he further said.
He added that the Malaysian government was even willing to help build institutions, strengthen education and improve agriculture.
Meanwhile, the Prime Minister congratulated the government of the Philippines and the Moro Islamic Liberation Front (MILF) for forging the peace pact, saying that the pact promises a better future.
However, he maintained that there was still so much that needed to be done.
"Both sides are leaving conflict behind, but we must steel ourselves for a new challenge. After the conflict, the difficult work of development begins," Razak said.
He noted that decades of fighting have robbed a generation of healthcare, of education, of income.
"It is our hope that the people of the Bangsamoro will work alongside the government of the Philippines and the MILF to ensure its success," the Prime Minister said.
He also expressed confidence that the government of the Philippines will continue to work with MILF in drafting the Bangsamoro Basic Law as the support of all parties was crucial for the law to be passed. (Philippine News Agency)