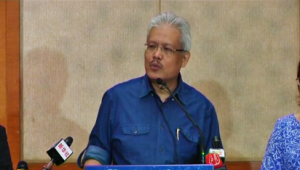 (Reuters) — Senior Malaysian government and airline officials met relatives of missing flight MH370 on Sunday (April 20) to discuss the issuing of death certificates for the passengers and also financial assistance for the families, although some were still clinging to hopes of survival of their loved ones.
Groups of distraught family members who have been waiting for news of what happened to theMalaysia Airlines flight which vanished from radar on March 8, were seen going into the meeting room.
After the meeting, Deputy Foreign Minister Hamzah Zainudin, who is also head of the Next of Kin Committee, held a news conference and stressed all passengers would be treated equally.
"When we talk about financial assistance, we have to be fair with everybody. The only discussion that we talk to currently is to the next of kin in Malaysia and to representative from China. So, we don't only talk to Malaysia next of kin. We'll talk to everybody," said Hamzah.
The amount of financial assistance has yet to be decided.
During the two-hour meeting, the issuance of death certificate was also discussed, but Hamzah said this was still work in progress
"And just now, we're looking at the date to announce. Once we want to make that kind of announcement, we would like to actually confirm certain issues, certain evidence or certain things that it is proper before we make that kind of announcement," said Hamzah.
The plane went missing an hour after it took of from Kuala Lumpur on a journey to Beijing.
After nearly two months of fruitless searching, the focus is now centred on an area in thesouthern Indian Ocean where one of four acoustic signals believed to be from the plane's black box flight recorders was detected on April 8. Search authorities have said the underwater hunt using a drone should end in a week.
With no trace of the plane, families are still hopeful of survivors.
"We couldn't find it in the sea and we couldn't find it on land. It's only logical that they're alive," said 60-year-old Salamat Omar whose son was on board the ill-fated flight.
On Sunday, up to 11 military aircraft and 12 ships were helping with the search, covering a total of about 48,507 square km (18,729 sq miles) across two areas, the Perth-based Joint Agency Coordination Centre said in a statement.