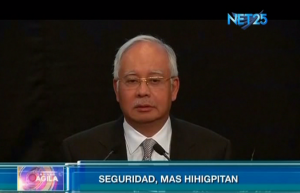 MANILA, Philippines — Malacanang is all ready for the historic signing of the Comprehensive Agreement on the Bangsamoro (CAB) on Thursday, March 27, that will be held at the Malacanang grounds, and which will be witnessed by Malaysian Prime Minister Dato' Sri Mohammad Najib bin Tun Haji Abdul Razak.
Presidential Spokesperson Edwin Lacierda said the event is scheduled to start at 4 p.m. but guests are expected to be there by 2 p.m. It will be emceed by Presidential Communications Development and Strategic Planning Office (PCDSPO) Undersecretary Manuel Quezon III.
Lacierda said the historic event will be held in the Palace grounds which could accommodate more people.
"If you've noticed a big tent at Kalayaan grounds, that's where the signing will take place," Lacierda said in a Palace media briefing. "We have to find a place within the grounds to accommodate over a thousand guests."
"(We) don't want everyone to be very uncomfortable in very tight premises," he added.
About 500 of the 1,000 guests attending will be members of the Moro Islamic Liberation Front (MILF).
Lacierda said there will also be areas for Muslim guests to do their traditional prayers.
Foreign dignitaries will also be present.
But the only head of state who will be attending is Malaysian Prime Minister Najib Razak, according to Malacanang.
Lacierda noted that the signing of the CAB will be the biggest event held in the Palace grounds since President Benigno S. Aquino III assumed office on June 30, 2010.
He added that the second biggest event was the signing of the Bangsamoro Framework Agreement (BFA) — one of the annexes included in the CAB — which was attended by over 800 people.
The signing of the agreement will also be led by the government panel head Prof. Miriam Coronel-Ferrer and MILF panel chief Mohager Iqbal.
President Aquino is expected to deliver a speech, aside from Office of the Presidential Adviser on the Peace Process chief Teresita Ging Deles, MILF chief Al Haj Murad and Prime Minister Najib himself.
Malacanang expressed appreciation that the Malaysian head of state would be attending the ceremony amid the problem his government is facing regarding the crashed Malaysian Airline flight MH370.
President Aquino and Prime Minister Najib would also be discussing other matters in a meeting before the signing of the peace agreement. (with a report from Philippine News Agency)