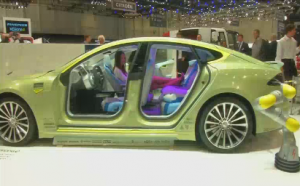 (Reuters) — With the era of driverless cars getting nearer, Swiss automotive think-tank Rinspeed have offered their take on our autonomous driving future at this week's Geneva Car Show.
With the help of a female model's feminine touch, the futuristic Rinspeed XchangE Autonomous Prototype has been a popular attraction at the 2014 show.
Based around the Tesla Model S but featuring a large array of modifications, at first sight, the XchangE car looks like many of the other expensive modern cars on display at the show. The only difference is that the XchangeE requires no driver.
"Rinspeed XchangE is about autonomous driving, about moving by yourself, with a autopilot in your car," said company creator and CEO Frank Rinderknecht.
"Once the car is doing that, our reasoning is that I do not want to watch my steering wheel turn left and right, I'd like to work, I'd like to relax, I'd like to be entertained, I'd like to do anything else but staring outside."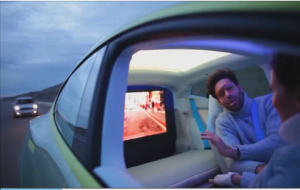 Offering room for four occupants in business class airline-style comfort, the electric prototype hints at the potential luxury interiors of future autonomous vehicles, when driving can be left to computers.
Rinderknecht describes it as a forward-looking combination of an office and living room on wheels. He believes autonomous driving is destined to become reality in the not-too-distant future, even though there remain problems to overcome.
"If you believe the car manufacturers, we will see autonomous cars on the roads within four to six years. Of course we need to change the law, we also need to change liability, and maybe not last, but not least, the human being has to accept autonomous driving, has to find confidence in the machine, that the machine is driving safer than he can do it," he said.
Travelling in a driverless car will allow occupants a variety of leisure options, including coffee machines and full internet access free.
The Rinspeed XchangE also allows occupants the option of taking the wheel themselves if they feel the need.
"If I am not driving myself, I am of course always, as an autonomous car connected to the Internet, to get the data, get the data from other cars, but I can download movies, I can work, I send my data up in the cloud, and I am always connected. But if I decide to drive myself, of course, I always can drive myself as well," said Rinderknecht.
Rinspeed, often described as the automotive industry's mobility lab, attempts to make the car's interior let the unburdened driver make optimal use of their time, whether it be at work or play.
"Since we have a rolling office or a rolling living room, so to speak, ambient atmosphere is very important. So, with the roof we can change the colours, we can change the light, we can create any mood you would like it to be. In the evening a little bit relaxed, if you are in the day a little bit more active. We have 380 LEDs which are individually controlled to create a new lighting within the car" Rinderknecht said.
As a result the prototype's passengers can surf the web, play games, watch movies, or even hold a meeting at 120 km/h.
The creators are certain that autonomous driving will actually make working in a carmore attractive than alternative transport, such as travelling by train, plane or long-distance coach.
The Rinspeed XchangE is the twentieth prototype concept vehicle built by the Swiss firm.
A variety of electric cars are on show in Geneva, including the new Quant sport limousine. At over 5.25 metres in length, its designers say the Quant offers "a unique combination of innovative technology, outstanding design and an entirely new energy storage system."
The Geneva Auto Show continues until March 16.