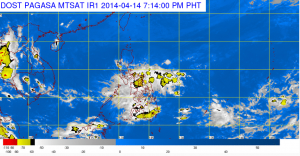 MANILA, April 15 (PNA) — The low pressure area (LPA) lingering inside the country for almost two weeks now continues to induce rains in many parts of the country.
The Philippine Atmospheric Geophysical and Astronomical Services Administration (PAGASA) weather forecaster Jun Galang in an interview Tuesday said that as of 4 a.m., the LPA was spotted some 60 km east of Guiuan, Eastern Samar (10.0ºN, 126.3ºE).
Galang said the weather disturbance continues to move "very slowly" due to the presence of a ridge of high pressure area (HPA) over Luzon that prevents the LPA from moving freely.
The LPA, which was spotted over the Pacific Ocean last April 4, entered the country as a storm on April 6 and was named "Domeng."
A day after it entered the Philippine territory or on April 7, it had been downgraded to a tropical depression category.
"Domeng," which was the first tropical cyclone to enter the country this month and the fourth this year, weakened into an LPA last April 10.
However, he noted that the LPA has a "slim chance" of re-intensifying to a tropical cyclone due to a strong vertical wind shear or winds from different directions that blow into the country, which continue to interact with its circulation.
Galang said that the LPA was projected to make landfall in Eastern Visayas on Tuesday morning.
Because of this, Galang said Eastern Visayas will have cloudyskies with moderate to occasionally heavy rains which may trigger flashfloods and landslides.
The Eastern Visayas were the areas devastated by super typhoon "Yolanda" last November.
He advised residents of these areas to be prepared and closely monitor the weather situation.
He added that the LPA will also affect the rest of Visayas, Bicol Region, Mimaropa, Northern Mindanao and Davao Region, Surigao provinces, inducing cloudy skies with scattered light to moderate rains in these regions.
Galang said after it hit land, the LPA may not dissipate but it will likely exit the country via West Philippine Sea on Good Friday.
By Maundy Thursday as the LPA transverses to Mindoro, expect light rains in some areas in Luzon including Metro Manila due to outer rain bands of the weather disturbance.
But for Holy Tuesday and Holy Wednesday, Galang said that the rest of Luzon, including Metro Manila will be spared from the LPA and will continue to have partly cloudy to cloudy skies with possible light passing rains mostly in the afternoon or evening.
In its advisory, PAGASA said that moderate to occasionally strong winds blowing from the northeast to northwest will prevail over the northern and eastern sections of Luzon and Visayas and the coastal waters along these areas will be moderate to occasionally rough.
Elsewhere, winds will be light to moderate coming from the northeast to west with slight to moderate seas. (Philippine News Agency)