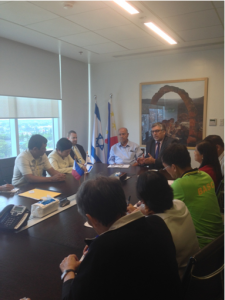 MANILA, Philippines — Israel, known for its expertise in agricultural technology, continues to share its knowledge in the field of agriculture with the Philippines.
No less than the Israel Embassy in Manila hosted a roundtable discussion on agricultural knowledge transfer last Monday, Sept. 15, particularly in the field of integrated pest management and post harvest management of fruits and vegetables.
Israeli embassy officials said this is just the start of efforts to strengthen their agicultural technology assistance to the Philippines.  More activities are being prepared in the coming months "for the benefit of the Philippine agricultural sector," a statement from the Israeli Embassy in Manila said.
An expert from the Israel's Ministry of Agriculture, Deputy Director for Extension Services Omar Zeidan, led the discussion along with Israeli Ambassador Designate Effie Ben Matityauin on "knowledge development and knowledge transfer" inside the Israeli Embassy premises in Manila.  Representatives from various Philippine agricultural agencies, as well as agriculture journalists, participated in the event.Israel Embassy's Deputy Chief of Mission Adam Levene also joined the roundtable discussion.
This highlighted the level of commitment which Israel gives in helping the Philippine agricultural sector.
Zeidan is also a former director of Israel's Center for International Agricultural Development Cooperation or CINADCO.   This is an implementing agency in Israel for agriculture and rural development that specializes in field crops and growing vegetables in open fields and under protected or restricted conditions.
The Philippines is still mainly an agricultural country, with a land area of 30 million hectares, 47% of which is agricultural land.According to World Bank statistics, agriculture in the Philippines employs 32% of the Filipino workforce as of 2013. Agriculture also accounts for 12% of Filipino Gross Domestic Product as of last year.
The Israeli embassy-hosted forum last Monday focused on topics such as horticulture and post-harvest, where the audience actively engaged in the discussion and shared their points and views particularly on which projects both countries can focus on.
Israel is a world leader in intensive agriculture.  The techniques, methodologies and protocols needed that would enhance the productivity of agriculture in the Philippines were discussed at great lengths.
Zeidan and Ambassador Matityauto will also meet with various officials from government agencies such as the Department of Agrarian Reform (DAR).  Zeidan collaborated with DAR in his upcoming visit to numerous demonstration farms in the northern region.
The Israeli agriculture official will also conduct a series of professional lectures on agriculture.  He will tackle such topics as factors affect seedling growth, requirements in establishing a nursery and the method of protecting plants from pests.