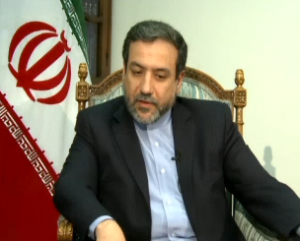 (Reuters) –Iran will not shut down its uranium enrichment programs nor dismantle any of its nuclear facilities, Iran's deputy foreign minister and top negotiator Abbas Araghchi said Tuesday.
Araghchi made the statement during an interview with China Central Television (CCTV) inTehran.
Iran and the P5+1, the five permanent members of the U. N. Security Council plus Germany, will start talks on a final nuclear deal on Feb. 18 in Vienna, Austria. Many see the meeting as a significant step for reaching a final agreement.
The deputy foreign minister said that Iran is prepared to negotiate with Western countries on its research and development of centrifuges as well as on how many centrifuges Iran is permitted to have.
"We don't think that there is need for any dismantling of anything. But to define some sort of limitations on our enrichment program, this is something that has been already accepted, and we will negotiate on that trying to find mutually defined parameters for Iran's enrichment program," said Araghchi, also reiterating Iran's stance on maintaining its enrichment programs.
"According to the Geneva agreement, we agreed on the elements of the final step, or the elements of the comprehensive solution. One of the elements is the continuation of Iran's enrichment program, because that solution would involve an enrichment program."
The deputy foreign minister also hoped that, following Iran's compliance with the nuclear limitations, all sanctions on the country would be lifted in the security council, in unilateral sanctions and in multilateral sanctions.
"In return, all sanctions should be lifted, either in the security council or unilateral sanctions and multilateral sanctions, and everything should go back to normality. And Iran's program should be dealt as a program of any other non-nuclear weapon state party to the NPT (Non-Proliferation Treaty)," said Araghchi.
The negotiator also said that Iran is in favor of a Middle East nuclear-free zone, and that the country is against the usage of nuclear weapons.
"So if there is a real, genuine concern about a nuclear weapon program in Iran, we will address that, we will take care of that and we will remove that. But it doesn't need any place to be dismantled or to be shut down," he noted.