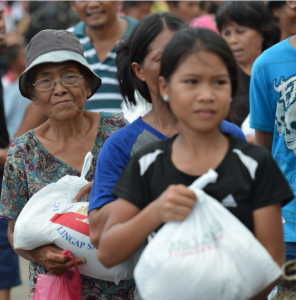 MANILA, Philippines — On Saturday, February 15, the Iglesia Ni Cristo will be conducting a "walk for a cause" for victims of supertyphoon Yolanda (international name: Haiyan) to further help families affected by the strongest typhoon on record.
INC Executive Minister Eduardo V. Manalo recently approved the holding of the activity in cooperation with its socio-civic arm, the Felix Y. Manalo Foundation, Inc.   A circular was read in local congregations of the INC all over the world on January 11 and 12, announcing to all church members worldwide the plan to hold the event subbed as the "Iglesia Ni Cristo Worldwide Walk for those Affected by Typhoon Yolanda."
"This activity aims not only to remember our fellowmen who were affected by the severe calamity that struck the Philippines, but most of all to help them recover from their current miserable condition," read the INC circular.
Organizers of the event disclosed that this walk for cause will be staged in 85 sites in the Philippines and 55 more sites across the globe:  34 in the USA, six in Europe, 10 in Australia/New Zealand; and five in Asia.
In Metro Manila, the walk will start from the grounds of the Cultural Center of the Philippines (CCP) along Roxas Boulevard all the way to the Rizal Park.
"The amount that will be raised through this activity (walk for a cause) will be allocated by the Church as additional assistance to our countrymen, especially our brethren, who were devastated by Super Typhoon Yolanda," Brother Edwil Zabala, minister of the gospel, said citing the INC circular.
Organizers further noted that in holding this event, the INC aims to generate more awareness about the state of those affected by Yolanda and hopes to set an example in helping them especially their brethren.
The activity is just one of the events being undertaken by the INC as it prepares for its Centennial this year.  The INC was first preached by its first Executive Minister, Felix Y. Manalo, and was registered in the Philippine government on July 27, 1914.  It maintains at least 5,500 local congregations spread in about 100 countries and territories worldwide.
Supertyphoon Yolanda killed more than 6,000 people in Central Philippines and displaced or affected almost four million persons, mostly in the Visayas region.
Registration for the INC Worldwide Walk is ongoing at all houses of worship.