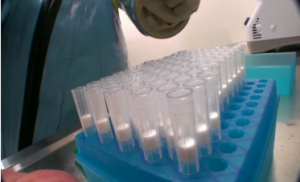 (Reuters) — Human testing of an experimental Ebola vaccine developed by the Canadian health agency and licensed to NewLink Genetics Corp has begun, the Canadian government announced on Monday (October 13)
The early-stage trial will test the vaccine, VSV-EBOV, on a small group of people to determine whether the vaccine is safe and the appropriate dose necessary to provide immunity, officials said.
Canada's Public Health Agency has been working on the vaccine for years, local media reported.
Speaking in Toronto, Chief Public Health Officer, Dr. Gregory Taylor said the vaccine would be tested on a group of healthy individuals and would not cause another outbreak.
"I want to be clear that to do these clinical trials no one will be at the risk of getting Ebola. The vaccine does not contain any live Ebola virus. The researchers conducting the trial will be asking about 40 healthy volunteers to take the Ebola vaccine. Then, a team of healthcare professionals will monitor them for side effects and take blood samples to see how effective the participants' immune systems are at making Ebola antibodies."
Results of the study are expected in December.