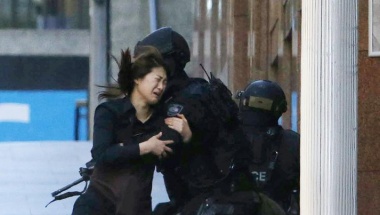 An armed assailant was holding an unknown number of hostages in a central Sydney cafe on Monday, shutting down Australia's largest city and raising fears it could be an attack by Islamist militant sympathisers.
Six hours after the mid-morning siege began, television showed three hostages running out of the Lindt chocolate cafe and sheltering behind a heavily armed, black-clad SWAT team.
Police said it was not known exactly how many more hostages remained in the cafe but it was not as high as the 30-40 that had been reported earlier.
The remaining hostages were being held by at least one armed assailant, police said, but did not rule out that others could be involved.
Reuters