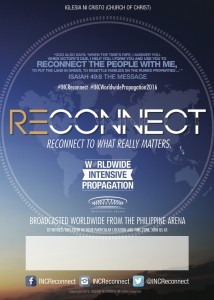 (Eagle News) — The Iglesia Ni Cristo will be holding a big worldwide evangelical event called, "Reconnect: Worldwide Intensive Propagation" on Sunday, May 22, to be officiated by INC Executive Minister Brother Eduardo V. Manalo.  It will be beamed live in some 2,900 remote sites all over the world.
The event itself, which will start at 8 a.m., will be held at the 55,000-seater Philippine Arena, dubbed as the world's biggest mixed use indoor theater, located in Ciudad de Victoria in Bocaue, Bulacan.
This is the second time that an evangelical mission will be held simultaneously by the INC across the globe.  A big gospel choir will also sing hymns of praises to God during the event where another Guinness record attempt will be made.
The first worldwide evangelical mission happened on Sept. 26, also at the Philippine Arena.
"The event is called 'Reconnect.'  The word comes from Isaiah 49:8 wherein God calls on His people to 'reconnect the people with Me,'" said INC spokesperson minister Edwil Zabala.
The cited verse Isaiah 49:8 also serves as the basis for the holding of the worldwide evangelical activity that will try to "reconnect" people with the use of modern technology for them to hear God's teaching on salvation.
"When the time's ripe, I answer you.     When victory's due, I help you.  I form you and use you
to reconnect the people with me, To put the land in order,    to resettle families on the ruined properties," the cited biblical verse read.
Zabala said all INC brethren around the world have invited non-INC members to listen to the evangelical mission, also called "Dakilang Pamamahayag."
In fact, a week before the event – on May 14 and 15 – INC members in the Philippines and abroad participated in the worldwide distribution of pamphlets to their neighbors, friends and acquiantances who are not INC members, to signify their unity with the Church Administration.
"We do this to obey God's commands as written in the Bible," Zabala said.
"We would like to give everyone a chance to hear the preaching of Brother Eduardo V. Manalo and this is the easisest way to do that," the INC spokesman added referring to the "Reconnect" event.
Zabala also reminded those who would attend the event not to bring any recording devices.  Cellphones are not allowed inside worship buildings and venues during INC worship services.
"INC Reconnect" is held on the month of the 130th birth anniversary of the first INC Executive Minister Brother Felix Y. Manalo.
May 10, 1886 is the birthdate of Brother Felix Y. Manalo considered as the "Last Messenger of God" by members of the Iglesia Ni Cristo.
Zabala said that with the more than 2,900 remote sites for the worldwide evangelical mission, it is hoped that there would not be much of a traffic problem in the area around the Philippine Arena.