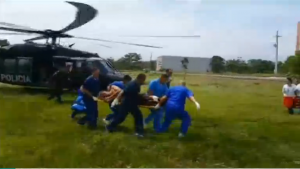 (Reuters)– Sixteen policemen died on Tuesday (August 04) and two were injured when a helicopter likely crashed into the side of mountain in a wooded region of northwestern Colombia, Defense Minister Luis Carlos Villegas said.
Apartado Clinic Director General Nicolas Suarez said the two injured police officers were being treated in his hospital.
"We received a call from the clinic alerting us that they were coming with people injured in the helicopter accident. Up to now, two injured people have arrived. We have one in the adult intensive care unit and we have the other one in surgery at this moment, being operated on by a vascular surgeon and a general surgeon," he said.
The National Police said one police officer was in intensive care with burns over 50 percent of his body and a fracture of his left leg. Doctors said his prognosis is reserved.
The other police officer has been transfered to the capital where he is being treated for second degree burns on his back and rear end, and a scapular fracture.
Defense Minister Luis Carlos Villegas confirmed the news to journalists in Bogota.
"The helicopter which crashed had 18 people on board of which two were hurt and 16 died in the accident," he said.
The U.S.-made UH-60 Black Hawk may have crashed because of bad weather or a mechanical failure while taking part in a counter-narcotics operation in the department of Antioquia some 450 km northeast (280 miles) of the capital, Bogota. The incident is under investigation, he said.
"We're pursuing a full investigation. For now, the most likely scenario is that the helicopter flew into 120-knot velocity which is about 180 km (111 miles) an hour, possibly because of low clouds the helicopter's (remains) were found completely scattered," he added.
The accident came four days after 11 soldiers died when a Spanish-made CASA C-235 suffered motor failure and crashed in the northeast of the country.
The accidents have triggered speculations that the aircrafts were shot down.
President Juan Manuel Santos said the speculations were irresponsible.
"I would ask people to be responsible when they make this kind of statement or speculations because, above all, the families of these heroes deserve respect and second, it would be very unfortunate that, for political reasons or who knows for what reason, people are speculating and making this kinds of statements," he told journalists.
Colombia's security forces have dozens of Black Hawk helicopters that are used in the government's offensive against leftist guerrillas, criminal gangs and drug traffickers.